Apr 17, 2018 at 4:00 pm
IAH Event: Fake News? Post Truth & Politics of Authenticity Since the Cold War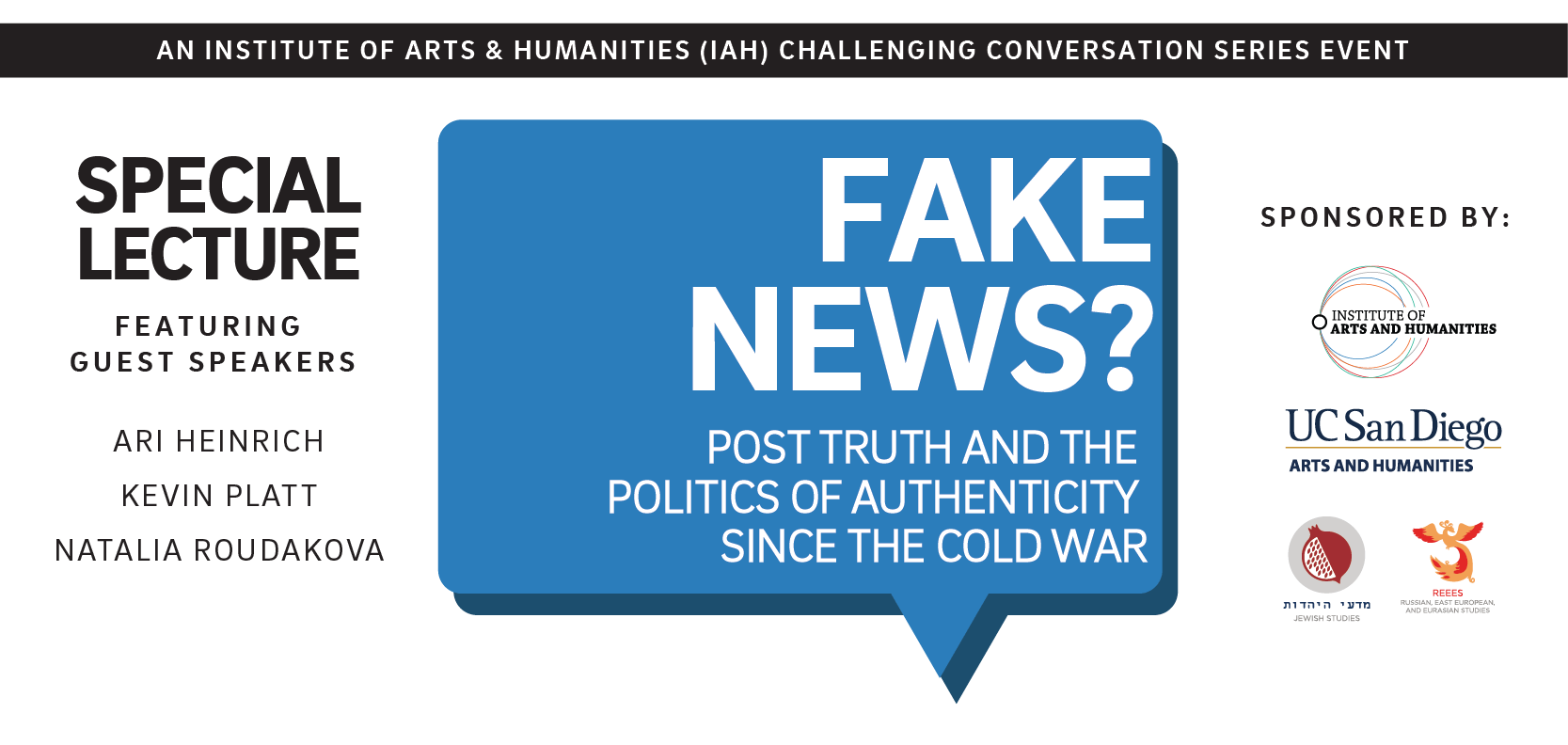 Please join us for a special lecture and discussion hosted by the Institute of Arts & Humanities (IAH) in partnership with the Jewish Studies and Russian, East European and Eurasian Studies (REEES) Programs at UC San Diego.
How does the concept of "post-truth" engage with geopolitics today? How are twenty-first century readerships imagined? This panel will consider the poetics and politics of authenticity from a trans-local perspective. The panelists will explore public perceptions of authenticity and falsehood, focusing on case studies in the US, Russia, and China since the 1990s.
This lecture will feature guest speakers Ari Heinrich, Kevin Platt and Natalia Roudakova.
PARKING: The closest guest parking is in Gilman Parking Structure.
*Note all visitors must purchase a temporary parking permit at the lot, as there is no free parking on campus. Without a parking permit, your car will be ticketed. (Read campus parking details)
DIRECTIONS: The Huerta-Cruz Room is located in the "original" Student Center near Porter's Pub, under the LGBT Center.
Event is free and open to the public. Refreshments will be provided. Space is limited—please RSVP!
Date and Time
Apr 17, 2018 at 4:00 pm
Location
Dolores Huerta Room, Old Student Center
Event Registration
Registration for this event is required by Apr 17, 2018. Visit the registration page for details.

Event Fee
Free
Contact
Joelle Fusaro • jmfusaro@ucsd.edu • 858-882-0733
Audience
Faculty, Staff, Students, The General Public
Event Host
Institute of the Arts and Humanities, Jewish Studies, and Russian, East European, and Eurasian Studies
Event Category