Apr 12, 2018 at 2:00 pm
IAH Event: Martha Gonzalez—Agonistic Harmony & Transformation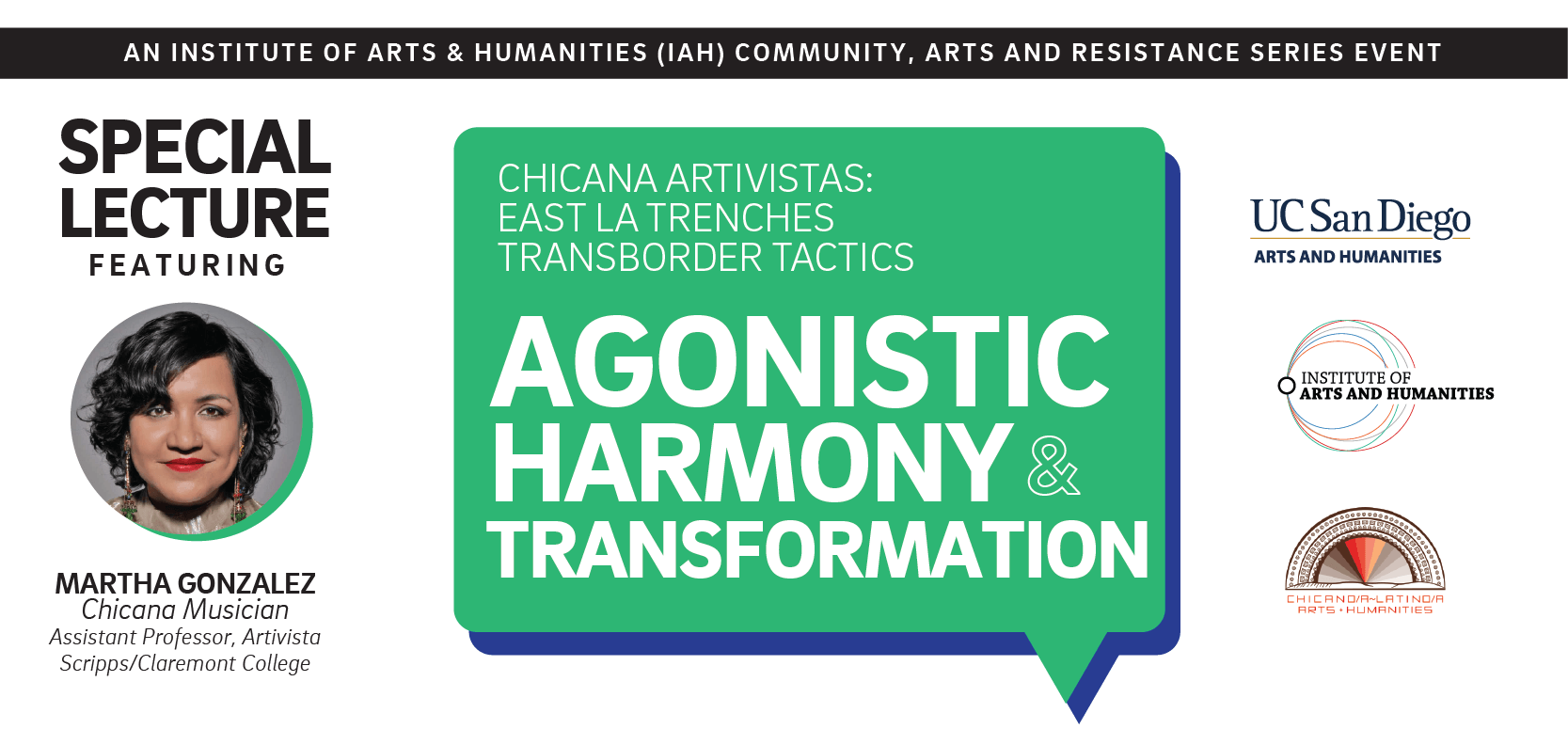 Martha Gonzalez is a Chicana artivista (artist/activist) musician, feminist music theorist and Assistant Professor in the Intercollegiate Department of Chicana/o Latina/o Studies at Scripps/Claremont College. A Fulbright (2007–2008), Ford (2012–2013) and Woodrow Wilson Fellow (2016–2017), her academic interest has been fueled by her own musicianship as a singer/songwriter and percussionist for Grammy Award winning band Quetzal. Quetzal has made considerable impact in the Los Angeles Chicano music scene. The relevance of Quetzal's music and lyrics have been noted in a range of publications, from dissertations to scholarly books. Their latest release is titled "The Eternal Get Down" on Smithsonian Folkways (2017). In addition, Gonzalez along with her partner Quetzal Flores has been instrumental in catalyzing the transnational dialogue between Chican@s/Latin@ communities in the U.S and Jarocho communities in Veracruz, Mexico. Gonzalez has also been active in implementing the collective songwriting method in correctional facilities throughout California and Seattle WA. Most recently, and as a testament to the body of music and community work Gonzalez has accomplished on and off the stage, in the summer of 2017 Gonzalez's tarima (stomp box) and zapateado shoes were acquired by the National Museum of American History. Gonzalez is currently working on her first book manuscript, Chican@ Artivistas: East Los Angeles Trenches, Transborder Tactics and lives in Los Angeles with her husband Quetzal and their 12 year-old son-Sandino.
PARKING: The closest visitor parking is likely in the Gilman Parking Structure. *Note all visitors must purchase a temporary parking permit at the lot, as there is no free parking on campus. (Read campus parking details)
DIRECTIONS: The lecture is in the Cross-Cultural Center located in Price Center on the UC San Diego campus. (MAP)
Event is free and open to the public. Refreshments will be provided. Space is limited—please RSVP!
Date and Time
Apr 12, 2018 at 2:00 pm
Location
Cross-Cultural Center - Communidad Room
Event Registration
Registration for this event is required by Apr 12, 2018. Visit the registration page for details.

Event Fee
Free
Contact
Joelle Fusaro • jmfusaro@ucsd.edu • 858-882-0733
Audience
Faculty, Staff, Students, The General Public
Event Host
Institute of the Arts & Humanities, Division of Arts & Humanities
Event Category