Oct 11, 2019 at 1:00 pm
Impact of Early Life Deprivation on Cognition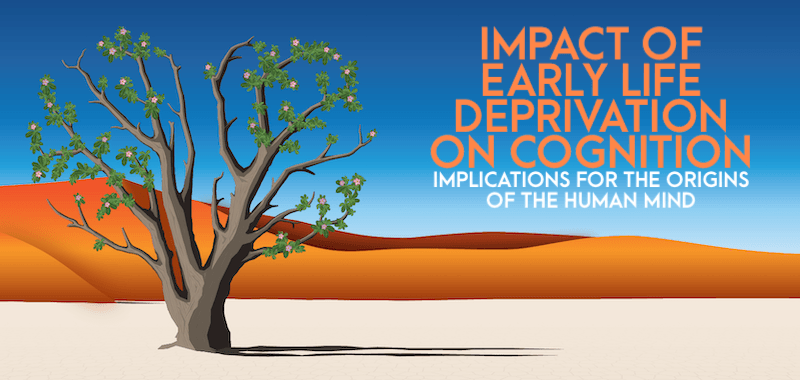 CARTA and KIBM invite you to join us for our free and public symposium, "Impact of Early Life Deprivation on Cognition: Implications for the Evolutionary Origins of the Human Mind," on October 11, 2019.
Unlike the case with most other animals, much of human brain development and maturation occur after birth, a process that continues into early adulthood. This unusual pattern allows for greater influences of environment and culture on the emergence of the adult mind. Ethical considerations disallow most experiments that might address the interactive contributions of nature and nurture in this process, which likely played a key role in the origins of the human species and in the evolution of distinct features of our minds. For similar reasons the relative importance of various factors cannot be easily studied, nor teased part. This symposium will address the matter to the extent possible based on available evidence, ranging from experiments by ancient monarchs and lessons from "feral" children of various kinds, to the follow-up of Romanian orphans, etc. while addressing comparative and neurobiological issues. Notably this symposium is co-sponsored by the Kavli Institute for Brain and Mind (KIBM), which organized a 2016 symposium on the Influence of Early Experience on Adult Brain Organization and Function, a logical prelude to this one.
Attend this free symposium in person or watch via a live webcast. Registration is required for those attending in person. See website for details.
Co-presented by UC San Diego/Salk Institute Center for Academic Research and Training in Anthropogeny (CARTA) and the KAVLI Institute for Brain and Mind (KIBM)
Sponsored by the G. Harold and Leila Y. Mathers Charitable Foundation.
Website: https://carta.anthropogeny.org/events/impact-early-life-deprivation-cognition-implications-evolutionary-origins-human-mind
Date and Time
Oct 11, 2019 at 1:00 pm
Location
Conrad T. Prebys Auditorium, Salk Institute
Event Registration
Registration for this event is required by Oct 11, 2019. Visit the registration page for details.

Event Fee
Free
Contact
Ingrid Benirschke-Perkins • ibenirschkeperkins@ucsd.edu • 858-246-0846
Audience
Faculty, Staff, Students, The General Public
Event Host
Center for Academic Research and Training in Anthropogeny (CARTA) and the KAVLI Institute for Brain and Mind (KIBM)
Event Category