Oct 11, 2018 at 8:30 am
Innovative Project Management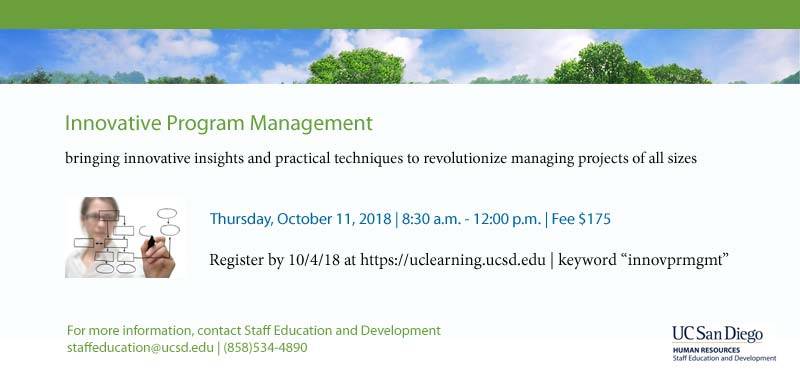 While traditional project management concepts are covered, this session is focused on bringing innovative insights and practical techniques to revolutionize managing projects of all sizes.
Topics Include:
Project management defined
Tasks, durations, dependencies
Resources, availability, assignment
Big, small and micro projects
Planning and micro-planning
Issue tracking and issue management
Defining results and driving to completion
Streamlining communication and collaboration
Setting expectations and negotiation
Project meeting facilitation
Project management tools
How to Register:
Login to the UC Learning Center by going to https://uclearning.ucsd.edu, or through the Personal Tools menu on Blink, using your Single Sign-On
Click the FIND A COURSE button, and type the workshop title or keyword in the search box, then click the Enter button.
Using the Select button to the right of the activity name, click REGISTER in order to see the available date(s).
Select the offering of the activity you wish to attend by selecting the small circle next to the blue box.
Click SUBMIT to finalize your registration
Remember, if you don't receive a confirmation e-mail from Staff Education & Development, your registration did not complete.
Date and Time
Oct 11, 2018 at 8:30 am
Location
Training Center North (TCN; Plaza Level, Torrey Pines Center-North (TPC-N))
Event Registration
Registration for this event is required by Oct 4, 2018. Visit the registration page for details.

Event Fee
$175.00
Contact
Staff Education & Development • staffeducation@ucsd.edu • 858-534-4890
Audience
Staff
Event Host
Staff Education & Development
Event Category