May 15, 2018 at 5:00 pm
Inside Innovation: Alysson Muotri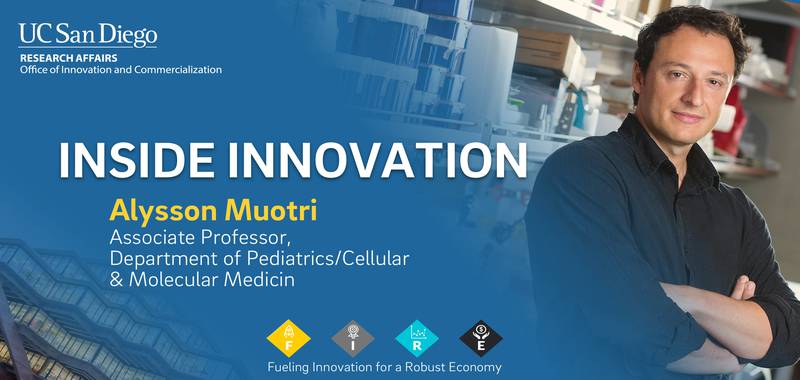 Inside Innovation featuring Alysson Muotri.
Roth Auditorium and Terrace, Sanford Consortium for Regenerative Medicine, Tuesdays from 5pm to 7pm.
5:00 pm - Registration
5:15 pm - Welcome
5:20 pm - Presentation
5:40 pm - Q&A
6:00 pm - Refreshments/ Networking
7:00 pm - End
The complexity of the human brain, with thousands of neuronal types, permits the development of sophisticated behavioral repertoires, such as language, tool use, self-awareness, symbolic thought, cultural learning and consciousness. From such dynamic complexity emerged extraordinary technological and artistic masterpieces in a relatively short cultural history. Moreover, brain complexity has a creative purpose. Understanding what produces neuronal diversification during brain development has been a longstanding challenge for neuroscientists and may bring insights into the evolution of human cognition.
The Muotri lab explores mobile elements as generators of diversity during neuronal differentiation. These mobile elements may be part of a conserved genetic core process responsible for evoking facilitated complex non-random phenotypical variation upon which selection may act. The lab uses animal models, neural stem cells, human and other primates' pluripotent cells and several molecular tools to investigate fundamental mechanisms of brain development, evolution and neural disorders, including Autism Spectrum Disorders.
Inside Innovation is a presentation series featuring the latest innovative technologies developed by UC San Diego researchers. Get an inside look at what is happening in the labs, explore commercialization opportunities and inquire about licensing.
UC San Diego Office of Innovation and Commercialization - providing campus-wide innovation and entrepreneurism support, building a dynamic entrepreneurial community and promoting a vibrant regional ecosystem.
There is ample parking adjacent to the auditorium building, once you head upstairs from the parking lot, go walk past the Bella Vista Caffe to the left.
Directions to the Roth Auditorium (with Google maps link): http://www.sanfordconsortium.com/directions
Date and Time
May 15, 2018 at 5:00 pm
Location
Sanford Consortium, Roth Auditorium and Terrace
Event Registration
Registration for this event is required.
Event Fee
Free
Contact
Gwen Sands • innovation@ucsd.edu • 858-534-5815 (office front desk)
Audience
Faculty, Staff, Students, The General Public
Event Host
UC San Diego Office of Innovation & Commercialization
Event Category