Apr 17, 2018 at 5:00 pm
Inside Innovation: Shaochen Chen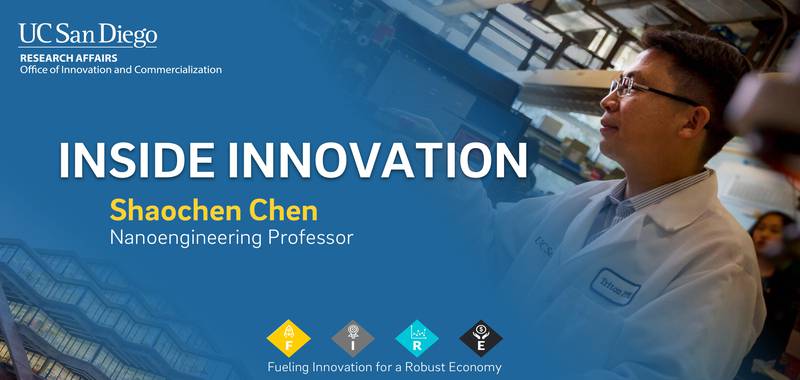 Inside Innovation featuring Shaochen Chen.
Roth Auditorium and Terrace, Sanford Consortium for Regenerative Medicine, Tuesdays from 5pm to 7pm.
5:00 pm - Registration
5:15 pm - Welcome
5:20 pm - Presentation
5:40 pm - Q&A
6:00 pm - Refreshments/ Networking
7:00 pm - End
Dr. Chen's research focuses on developing advanced nano/micro-manufacturing processes and nano/micro-mechanical systems for biomedical and life sciences applications. Meantime, he investigates fundamental issues regarding near-field optics (e.g. plasmonics), thermal/fluid transport, and nanomechanics in these nano/micro-systems.
The goal of his research is to overcome the technical limitations of large scale conventional manufacturing processes, develop new processes and nano/micro-devices with good understanding of fundamental physics and chemistry, and to use these nano/micro-systems to advance health care. His research is highly interdisciplinary, involving laser physics, photonics, nano/micro-manufacturing, thermal/fluid transport, nanomaterials, and biomedical engineering on a small length scale and/or time scale.
Inside Innovation is a presentation series featuring the latest innovative technologies developed by UC San Diego researchers. Get an inside look at what is happening in the labs, explore commercialization opportunities and inquire about licensing.
UC San Diego Office of Innovation and Commercialization - providing campus-wide innovation and entrepreneurism support, building a dynamic entrepreneurial community and promoting a vibrant regional ecosystem.
There is ample parking adjacent to the auditorium building, once you head upstairs from the parking lot, go walk past the Bella Vista Caffe to the left.
Directions to the Roth Auditorium (with Google maps link): http://www.sanfordconsortium.com/directions
Date and Time
Apr 17, 2018 at 5:00 pm
Location
Sanford Consortium, Roth Auditorium and Terrace
Event Registration
Registration for this event is required.
Event Fee
Free
Contact
Gwen Sands • innovation@ucsd.edu • 858-534-5815 (office front desk)
Audience
Faculty, Staff, Students, The General Public
Event Host
UC San Diego Office of Innovation & Commercialization
Event Category