Mar 13, 2018 at 5:00 pm
Inside Innovation: Steven Dowdy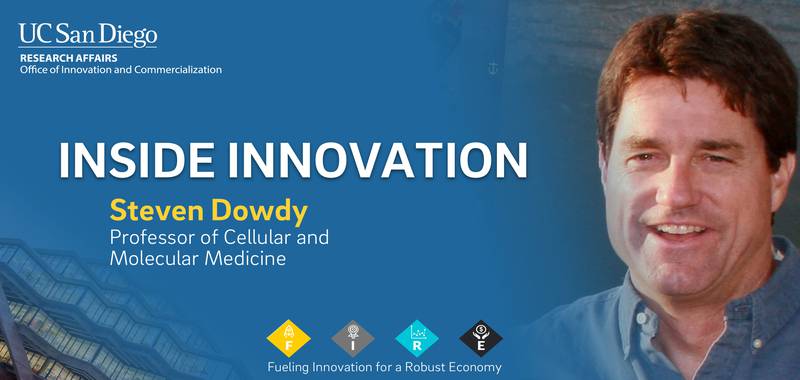 Inside Innovation featuring Steve Dowdy.
Roth Auditorium and Terrace, Sanford Consortium for Regenerative Medicine, Tuesdays from 5pm to 7pm.
5:00 pm - Registration
5:15 pm - Welcome
5:20 pm - Presentation
5:40 pm - Q&A
6:00 pm - Refreshments/ Networking
7:00 pm - End
"On the Brink of an RNAi Therapeutics Revolution: Overcoming a Billion Years of Evolutionary Defenses"
RNAi therapeutics have great potential to treat human disease; however, due to a billion years of evolutionary defenses, delivery into the cytoplasm remains the rate limiting step. I will discuss the barriers and potential solutions making their way from basic discovery to clinical trials for RNAi therapeutics.
Inside Innovation is a presentation series featuring the latest innovative technologies developed by UC San Diego researchers. Get an inside look at what is happening in the labs, explore commercialization opportunities and inquire about licensing.
UC San Diego Office of Innovation and Commercialization - providing campus-wide innovation and entrepreneurism support, building a dynamic entrepreneurial community and promoting a vibrant regional ecosystem.
There is ample parking adjacent to the auditorium building, once you head upstairs from the parking lot, go walk past the Bella Vista Caffe to the left.
Directions to the Roth Auditorium (with Google maps link): http://www.sanfordconsortium.com/directions
Date and Time
Mar 13, 2018 at 5:00 pm
Location
Sanford Consortium, Roth Auditorium and Terrace
Event Registration
Registration for this event is required.
Event Fee
Free
Contact
Gwen Sands • innovation@ucsd.edu • 858-534-5815 (office front desk)
Audience
Faculty, Staff, Students, The General Public
Event Host
UC San Diego Office of Innovation & Commercialization
Event Category