May 30, 2019 at 5:00 pm
ISC Sustainability Research Symposium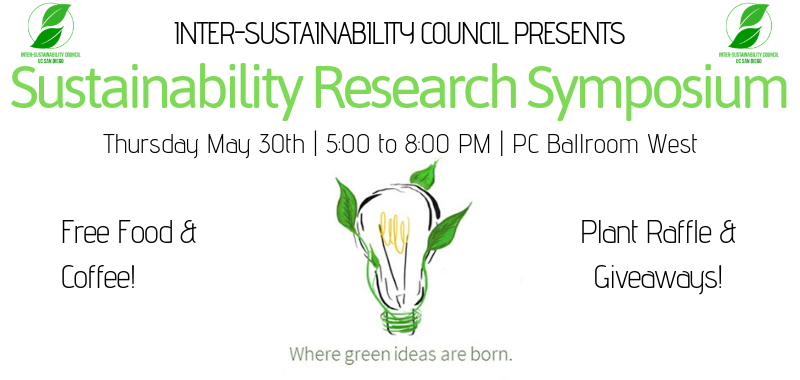 Like research and free plants? Then, come check out the ISC Sustainability Research Symposium on May 30th from 5–8 pm! Hear from Dr. Andrea Tao -Principal Investigator of the UC San Diego Nanoscale Interfaces & Assembly Lab- and talk with undergraduate researchers about how their research projects address issues like climate change, conservation, clean energy and more! Attendees will enjoy free food and coffee, and will also be entered to win plants, sustainability prizes, and gift cards! Bring a friend and see how you can get involved in sustainability research at UC San Diego.
Date and Time
May 30, 2019 at 5:00 pm
Location
Event Registration
Registration for this event is required by May 30, 2019. Visit the registration page for details.

Event Fee
Free
Contact
Chelsea Donald • chdonald@ucsd.edu
Audience
Faculty, Staff, Students, The General Public
Event Host
Inter-sustainability Council
Event Category