Jun 7, 2019 at 12:00 pm
Javier Fresneda: Desomancia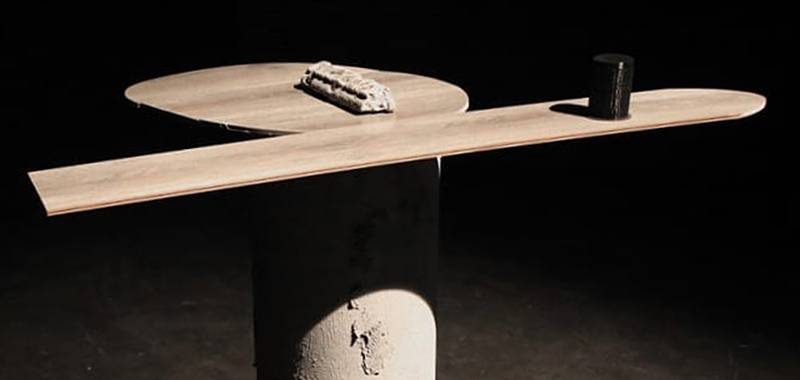 PhD Dissertation Exhibition
June 5 & 7, 12–3 p.m.
Reception: June 7, 5–7 p.m.
In his thesis show Desomancia (2019), Javier Fresneda introduces recent sculptures and a video-essay that extend some of the key concepts of his PhD thesis dissertation. Notions of materiality, occlusion, forgery, and heritage, are combined within a work-specific installation.
In the show, two fragments taken from disparate patrimonial buildings (Frank Lloyd Wright's Hollyhock House in Los Angeles, and the Castillo San Felipe del Morro in Puerto Rico), have been drastically altered, restored and installed upon ad-hoc furniture. Fresneda also includes two 3D-printed prototypes of the paradigmatic Rubin's vase, in which the Gestalt iconography results deformed and concealed by the printing process itself.
Desomancia also features Turbonada (2017-2019), a video piece started in Puerto Rico during Fresneda's field research awarded by CILAS - Center for Latin American Studies in 2017, which interrelates infrastructure and material heritage through the examination of three case studies: the San Cristóbal castle, the fortress of San Felipe del Morro and the Arecibo radio telescope in Puerto Rico.
Links:
www.fugaciel.com
www.cocompress.com
www.scrolldiving.pro
Date and Time
Jun 5, 2019 at 12:00 pm
See more date(s) and/or time(s) below.
Location
Performance Space, 306 Visual Arts Facility, UC San Diego
Event Registration
Registration is not required for this event.

Event Fee
Free
Contact
Nick Lesley • nlesley@ucsd.edu • 858-822-7755
Audience
Faculty, Staff, Students, The General Public
Event Host
Visual Arts
Event Category
Concerts, Performances and Exhibitions
All Event Dates and Times