Mar 15, 2019 at 12:00 pm
Lucinda Ramberg, Dalit Futures and Sexual Modernity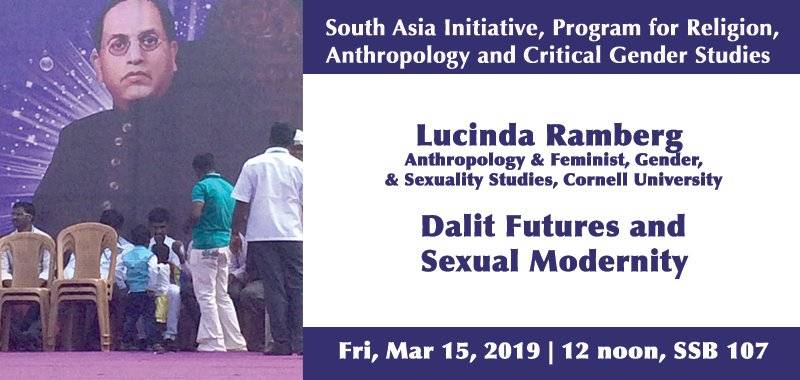 Title: Dalit Futures and Sexual Modernity
Abstract: Following the call of Dr. B.R. Ambedkar, many Dalits have converted to Buddhism as means of escape from the stigmatization attached to "untouchability." Drawing on 18 months of ethnographic research, I consider the sexual politics of this movement in relation to the temporality of stigma. In particular, I investigate the widely held notion that women in particular find it difficult to break from ancestral religion through interviews with Buddhist women who continue to keep ancestral gods and ethnographic descriptions of weddings in which Buddhist and Hindu rituals are mixed. Drawing on conversations within feminist and queer theory about the distribution of social life and death through reproductive futurism as well as critiques of representations of native others as stuck in the past within postcolonial theory, I elaborate how Dalits work to elude the time set for them by others.
Bio: Lucinda Ramberg is Associate Professor of Anthropology and Feminist, Gender, & Sexuality Studies at Cornell University. Her research projects in South India have roots in longstanding engagements with the politics of sexuality, gender and religion. Her first book, Given to the Goddess: South Indian Devadasis and the Sexuality of Religion (Duke University Press 2014) explores the possibilities of vernacular religion as gendered resistance and caste critique. Her current book project turns to the revival of Buddhism in South India and questions of religious conversion in relation to projects of caste radicalism, social transformation, and sexual politics.
Date and Time
Mar 15, 2019 at 12:00 pm
Location
Event Registration
Registration is not required for this event.

Event Fee
Free
Contact
South Asia Initiative • southasiaucsd@gmail.com
Audience
Faculty, Staff, Students
Event Host
South Asia Initiative, Program for Religion, Dept of Anthropology & Critical Gender Studies.
Event Category