Jan 28, 2018 at 3:00 pm
Lytle Scholarship Concert 2018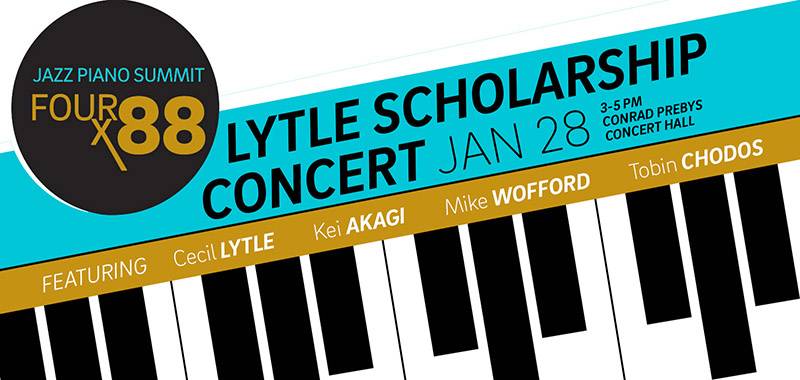 Four grand pianos. Four jazz pianists who have performed with the likes of Miles Davis and Ella Fitzgerald. The University of California San Diego's 22nd Annual Lytle Scholarship Concert will feature a unique solo improvisation set from visionary musicians Cecil Lytle, Kei Akagi, Mike Wofford and Tobin Chodos, capped off by a show-stopping finale that merges the talents of all four performers. The campus and local community are invited to the concert, entitled "Jazz Piano Summit," on Sunday, Jan. 28. All proceeds will benefit undergraduate scholarships at UC San Diego.
For more than two decades, the concert has helped raise funds for graduates of The Preuss School UCSD who are attending Thurgood Marshall College at UC San Diego. Founded in 1999, The Preuss School is a unique public charter middle and high school for low-income students who strive to become the first in their families to graduate from college.
Each of this year's performers brings their own vision, training and talents to the concert. Pianist and composer Kei Akagi has been a mainstay of the international jazz world for over two decades. He has toured with major jazz figures such as Miles Davis, Joe Farrell and Stanley Turrentine and recorded over a dozen solo albums. Mike Wofford, who joined the Los Angeles jazz scene in the 1960s, has accompanied Ella Fitzgerald and Sarah Vaughn; played in the studio with Oliver Nelson and John Lennon; and recorded with bassist Lisle Ellis.
Two of this year's performers are part of the UC San Diego academic community. Asher Tobin Chodos is a doctoral candidate in the UC San Diego Department of Music, where he is writing a dissertation about automated music recommendation. Internationally renowned pianist and concert creator Cecil Lytle will also perform. Over a span of three decades Lytle taught music at UC San Diego, served as chair of the department of music and helped shape UC San Diego's Thurgood Marshall College as provost for 17 years.
This year's concert, titled "Jazz Piano Summit," will be held at 3 p.m. on Jan. 28 at the UC San Diego Conrad Prebys Concert Hall. Tickets can be purchased by calling (858) 534-1507 or emailing promise@ucsd.edu. General admission is $50; tickets for active and former military are $40; and $10 for students from all schools.
Date and Time
Jan 28, 2018 at 3:00 pm
Location
Event Registration
Registration for this event is required. Visit the registration page for details.

Event Fee
$50 general public; $40 active and former military; $10 students
Contact
Adrienne Hamilton • promise@ucsd.edu • (858) 534-1507
Audience
Faculty, Staff, Students, The General Public
Event Host
Department of Music
Event Category