Jul 24, 2019 at 8:30 pm
Managing Meetings and Groups Effectively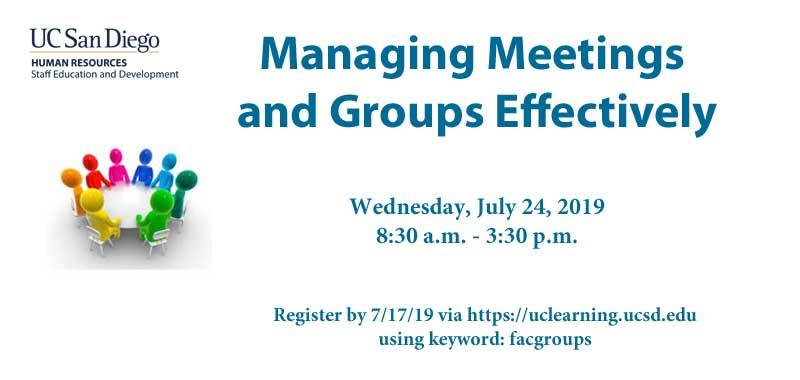 Intended for: those who are new to meeting or group facilitation
Wednesday, July 24, 2019
8:30 a.m.–3:00 p.m.
Training Center North (TCN; Plaza Level, Torrey Pines
Center-North (TPC-N))
Instructor: Kim Greene
Fee: $15 (registration/cancelation deadline 7/17/2019)
Keyword: facgroups
Intended for: those who are new to meeting or group facilitation
This workshop provides a good first step for new classroom or meeting facilitators. You will understand your role, how to inspire confidence in your facilitation skills, and be able to involve others in a variety of ways in group discussions.
Topics include:
·Understanding your role as a facilitator
·Establishing trust
·Identifying, describing, and recording issues
·Using basic group process techniques
·Making the most of differences
You will learn these techniques by practicing the various elements of the facilitation process.
Date and Time
Jul 24, 2019 at 8:30 pm
Location
Training Center North, Torrey Pines Center - North
Event Registration
Registration for this event is required by Jul 17, 2019. Visit the registration page for details.

Event Fee
$15.00
Contact
Staff Education & Development • staffeducation@ucsd.edu • 858-534-4890
Audience
Staff
Event Host
Staff Education & Development
Event Category