Aug 21, 2019 at 8:30 am
Managing & Organizing your Email Inbox, Documents, and Paper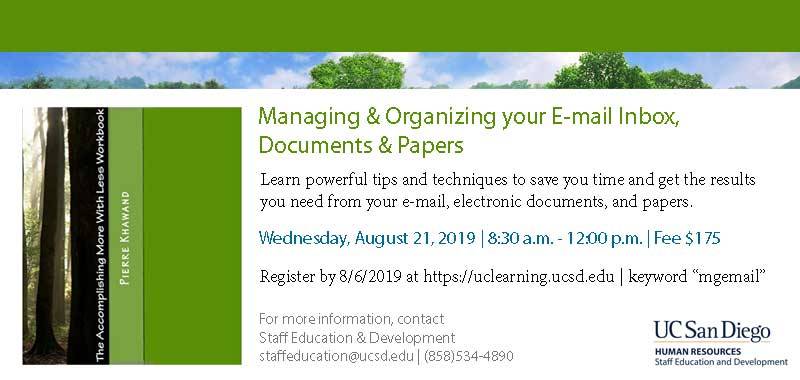 Managing & Organizing your E-mail Inbox, Documents & Papers
Wednesday, August 21, 2019
8:30 a.m. - 12:00 p.m.
Training Center North (TCN; Plaza Level, Torrey Pines Center-North (TPC-N))
Instructor: Betsy Butterick
Fee: $175, includes the Accomplishing More with Less Workbook (registration/cancellation deadline 8/5/19)
Keyword: mgemail
Intended for: all staff
Learn powerful tips and techniques to save you time and get the results you need from your e-mail, electronic documents, and papers. Get important e-mail management strategies to transform e-mail into a productivity tool and learn how to manage information overload and also manage your competing priorities.
You will learn e-mail management strategies that can be applied in any application to get the results you want from your e-mail communication and help you, your team, and your organization better succeed and meet your goals. You will also learn how to organize your information (whether e-mail, electronic documents, or paper) easily and efficiently so you can effectively manage the information overload and find relevant information when you need it.
Not only this, you will learn how to manage your priorities with ease especially when many are competing for your attention and your time. You will discover that while the information overload is a fact that we cannot avoid, managing our information effectively is a skill that we can develop and practice. This session will demonstrate the how!
Key takeaways from this lecture:
How to organize the e-mail inbox for easy handling
How to track unfinished messages and not miss a deadline
How to file electronic and paper information efficiently
Valuable tips and techniques for managing your priorities and your time
Many shortcuts and techniques for everyday usage
Date and Time
Aug 21, 2019 at 8:30 am
Location
Training Center North, Torrey Pines Center - North
Event Registration
Registration for this event is required by Aug 5, 2019. Visit the registration page for details.

Event Fee
$175
Contact
Staff Education & Development • staffeducation@ucsd.edu • 858-534-4890
Audience
Staff
Event Host
Staff Education & Development
Event Category