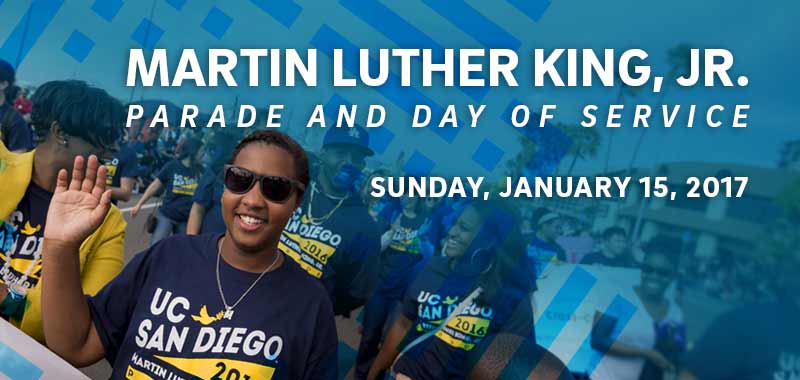 PARADE
SUNDAY, January 15, 2017 • 2:00 pm–4:00 pm
Harbor Drive, Embarcadero
For more official parade information please visit http://alpha-zsl.org/mlkdayparade.html
PARADE START TIME: 2:00 PM. LINE-UP WILL BEGIN AROUND 1:15 PM in the County Administration Building parking lot downtown (1600 Pacific Coast Highway)
FREE snacks and transportation
Meet at the Triton Tour Center in Town Square (Myers Drive and Rupertus Way) at noon.
To reserve a space on the bus sign up at the Center for Student Involvement w/Darlene Schlueter darlene@ucsd.edu or 858-534-1585
Students, staff, faculty, alumni and guests: You don't have to be on the buses to march in the parade.
If you have your own transportation, you can join UC San Diego at 1:15 pm at the Parade Assembly Area, which will be at the County Administration Parking Lot (1600 Pacific Coast Highway—intersection of Grape & Pacific Highway). Look for the blue & yellow balloons!
Directions To The Parade from campus:
Merge on I-5 SOUTH
Take the SASSAFRAS STREET (it will turn into KETTNER) exit toward SAN DIEGO AIRPORT
Continue on KETTNER BOULVEVARD
Turn right on GRAPE STREET
Turn left on PACIFIC HIGHWAY (Follow signs to bus unloading/parking)
The parade will start at 2:00 pm from the County Administration Building parking lot downtown (1600 Pacific Coast Highway)
_______________
DAY OF SERVICE
Registration for the Day of Service will open on January 5th 2017
Sunday, January 15, 2017
Service Site:
South Bay Union School District
Oneonta Elementary School
1311 Tenth Street, Room 17
Imperial Beach, CA 91932
Help make a positive impact in the San Diego community with hands-on service projects. This year we are excited to announce that we will be spending the morning at Oneonata Elementary School working on various projects, including planting, gardening, and releveling school books. Oneonata Elementary School is home to 557 students from K-6th grade in
the city of Imperial Beach.
Breakfast, snacks and lunch provided. Transportation to and from campus will be available for a limited number of UC San Diego community members.
Registration is not required for this event.