May 16, 2018 at 7:30 pm
MFA One Acts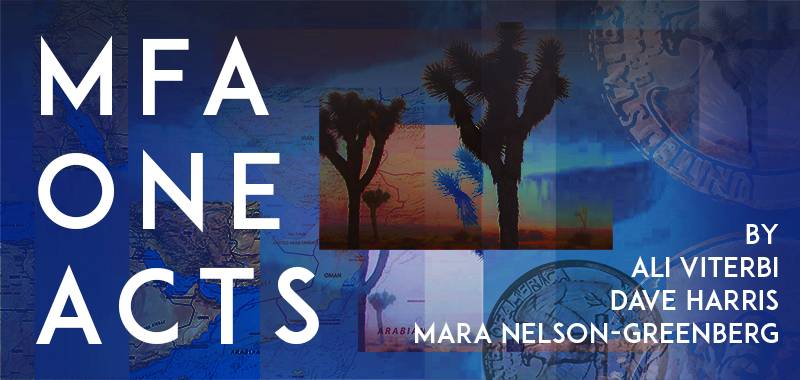 Tambo and Bones are two characters in a minstrel show. They soon come to realize that they are, in fact, just two characters in a minstrel show. This realization brings them great distress. All they want is some quarters and a nap. They decide that there is only one solution: they must find and kill the source of all their troubles. TAMBO & BONES interrogates the intersection of race and capitalism, and the connection between pain, profit, and audience.
Ted and his wife hire a vagina tutor to teach their son Marty about the vagina after they discover Marty has confused a diagram of the vagina for a map of the Middle East. Marty isn't home yet when the vagina tutor arrives, but Ted is and it soon becomes clear that Ted is just as clueless as his son is about all things vagina-related. THE CLITORISH explores "truthiness," vaginas, and how certain people manage to dictate the rules of the world.
Anya's boyfriend was Caleb's best friend. To commemorate the one-year anniversary of his death, Anya and Caleb ditch school to go to the desert. And maybe fall in love. And maybe conjure a ghost. JOSHUA looks at that moment in time where life moves us from a place of youth and innocence into the place that will shape our adult selves. As we look back, how do we reconcile the missed opportunities, the things we didn't say, the paths we didn't take? And will they even matter to our older selves?
Date and Time
May 12, 2018 at 7:30 pm
See more date(s) and/or time(s) below.
Location
Event Registration
Registration for this event is required by May 19, 2018. Visit the registration page for details.

Event Fee
General Admission: $20 / Senior/Affiliate: $15 / Student: $10
Contact
Mark Maltby • tdpromo@ucsd.edu • 858-534-3791
Audience
Faculty, Staff, Students, The General Public
Event Host
UC San Diego Theatre & Dance
Event Category
Concerts, Performances and Exhibitions
All Event Dates and Times