Oct 11, 2018 at 1:00 pm
Mindfulness @ Work-Thrive in the Midst of the Overload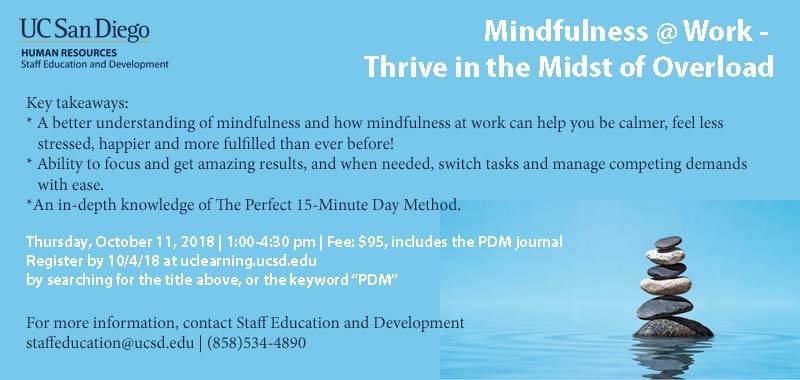 This revolutionary workshop tackles today's workplace challenges by introducing mindfulness, demystifying it, and translating it to simple techniques that you can easily incorporate into your day to help you skillfully manage through the most demanding work environments. You probably have heard about the benefits of mindfulness practices for our physical and mental health—lower blood pressure and cortisol (stress) levels, a stronger immune system, improved sleep, increased ability to focus, enhanced emotional stability, among others. Isn't it time we introduced mindfulness at work, bringing these benefits to our workday where we spend the most time and most energy?
This workshop is largely about self-awareness and awareness of our surroundings and the impact that our thoughts, emotions, and actions have on our experience, and most importantly, this workshop is about equipping you with a method to become more mindful, more purposeful, and more effective at work and beyond.
Key takeaways:
A better understanding of mindfulness and how mindfulness at work can help you be calmer, feel less stressed, happier and more fulfilled than ever before!
Ability to focus and get amazing results, and when needed, to switch tasks and manage competing demands with ease.
An in-depth knowledge of The Perfect 15-Minute Day Method and how to use the accompanying journal to easily practice the method and turn it into a habit.
How to Register:
Login to the UC Learning Center by going to https://uclearning.ucsd.edu, or through the Personal Tools menu on Blink, using your Single Sign-On
Click the FIND A COURSE button, and type the workshop title or keyword in the search box, then click the Enter button.
Using the Select button to the right of the activity name, click REGISTER in order to see the available date(s).
Select the offering of the activity you wish to attend by selecting the small circle next to the blue box.
Click SUBMIT to finalize your registration
Remember, if you don't receive a confirmation e-mail from Staff Education & Development, your registration did not complete.
Date and Time
Oct 11, 2018 at 1:00 pm
Location
Training Center North (TCN; Plaza Level, Torrey Pines Center-North (TPC-N))
Event Registration
Registration for this event is required by Oct 4, 2018. Visit the registration page for details.

Event Fee
$95.00
Contact
Staff Education & Development • staffeducation@ucsd.edu • 858-534-4890
Audience
Staff
Event Host
Staff Education & Development
Event Category