Nov 20, 2016 at 2:30 pm
Mr. Deng Goes to Washington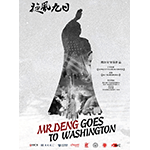 This riveting documentary tells the story of Deng Xiaoping's historic visit to the U.S. in 1979 that changed the trajectory of U.S.-China relations and the world. The full screening will be followed by a conversation about the historical role of Deng and U.S.-China relations post-election.
Schedule:
2:30 p.m. Film Screening (bilingual narration and subtitles)
3:30 p.m. Panel Discussion (with English/Chinese translation)
4:30 p.m. Reception
Panelists:
Fu Hongxing, filmmaker of "Mr. Den Goes to Washington," is one of the most successful documentary film directors in China. He is the former director of China's Film Archive as well as the former deputy director of China Central Newsreel Documentary Film Studio. He is a professor and doctoral supervisor at Beijing Normal University and the executive dean of Academy for International Communication of Chinese Culture at Beijing Normal University.
Zhou Zhixin, founder and publisher of Leadership and 21ccom.net, is also the chair of newly established U.S.-China New Perspectives Foundation. Zhou began his career at the Central Party Literature Research Office and was the leading force behind the establishment of its Central Documents Publishing House..
Susan Shirk, chair of GPS's 21st Century China Center, is one of the most influential experts working on U.S.-China relations and Chinese politics. Shirk's book "China: Fragile Superpower" helped frame the policy debate on China in the U.S. and other countries.
This event is sponsored by GPS's 21st Century China Center. It is co-sponsored by the Fudan-UC Center on Contemporary China, China Focus and Chinese Students and Scholars Association.
Date and Time
Nov 20, 2016 at 2:30 pm
Location
Event Registration
Registration for this event is required by Nov 20, 2016.
Event Fee
Free to the public, but registration is required.
Contact
Samuel Tsoi • stsoi@ucsd.edu • 858-246-1950
Audience
Faculty, Staff, Students, The General Public
Event Host
GPS 21st Century China Center
Event Category