Apr 13, 2018 at 8:00 pm
Muir Musical Presents "Jesus Christ Superstar"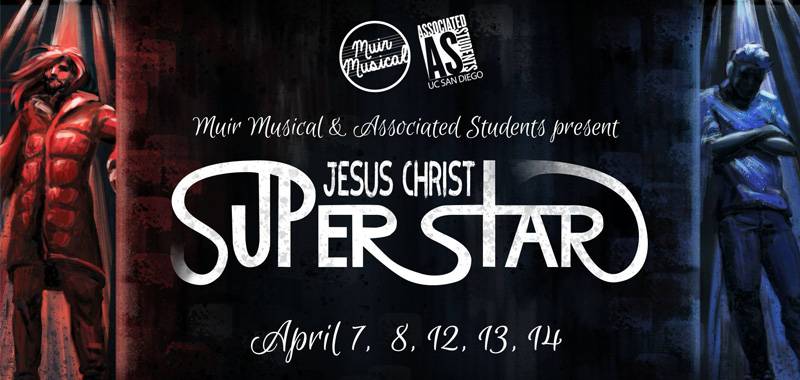 Muir Musical is proud to present "Jesus Christ Superstar," a rock opera written by Andrew Lloyd Webber, the composer behind other hit musicals such as Phantom of the Opera, Evita and Cats.
Muir Musical is the largest and only completely student-directed and produced musical theater event on campus. Performances will be held at 8 p.m. on April 7–8 and 12–14, with a special matinee performance at 2 p.m. on April 8, in Mandeville Auditorium. Tickets are available in person or online through the UC San Diego Box office. Free tickets are available for the first 400 students of each showing.
The musical was founded at Muir College and is comprised of over 75 undergraduate students representing all six colleges and a wide range of majors. With a production team of 25, a 15-piece orchestra and a talented cast of actors and actresses, the Muir Musical is a premier showcase of the imagination and passion of UC San Diego students.
"Jesus Christ Superstar" was first released as a vinyl record in 1970 and appeared on Broadway in 1971, where it was an instant hit. Combining rock music of the 1970s and contemporary attitudes with biblical figures, "Jesus Christ Superstar" is a musical examining the political and interpersonal relationships between Jesus and his disciples.
Launched in 1991 by Muir sophomore, Orrin Webber, Muir Musical was created as an outlet for students interested in musical theater who are not necessarily theater majors. Except for one single-year hiatus, the Muir Musical has put on a full-scale Broadway musical production every year since its inception. Past productions have included Legally Blonde: The Musical, Rent, In the Heights and more.
For more information, visit www.muirmusical.org.
Date and Time
Apr 7, 2018 at 8:00 pm
See more date(s) and/or time(s) below.
Location
Event Registration
Registration for this event is required by Apr 8, 2018. Visit the registration page for details.

Event Fee
$0–$15
Contact
Austyn Myers • info@muirmusical.org
Audience
Faculty, Staff, Students, The General Public
Event Category
Concerts, Performances and Exhibitions
All Event Dates and Times