Feb 5, 2018 at 4:30 pm
Murray Goodman Endowed Lecture (14th year)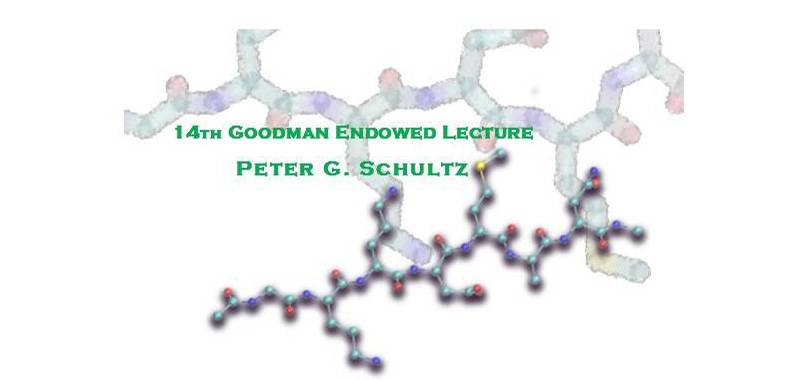 Dr. Peter G. Schultz, CEO and Professor of Chemistry at The Scripps Research Institute, will present his Lecture entitled: 'Playing with the Molecules of Life.'
'PLAYING WITH THE MOLECULES OF LIFE'
Our research program combines the tools and principles of chemistry with the molecules and processes of living cells to synthesize new molecules and molecular assemblies with novel physical, chemical and biological functions. By studying the structure and function of the resulting molecules, new insights can be gained into the mechanisms of complex biological and chemical systems. Examples of this synergistic chemical/biological approach to synthesis will be discussed including the addition of amino acids with novel biological, chemical and physical properties to the genetic codes of prokaryotic and eukaryotic organisms, and the identification of small molecules that control stem cell self-renewal and directed differentiation, as well as reprogramming of somatic cells.
Date and Time
Feb 5, 2018 at 4:30 pm
Location
Natural Sciences Auditorium, in the Department of Chemistry & Biochemistry.
Event Registration
Registration is not required for this event.

Contact
Robyn Swanland • rswanland@ucsd.edu • 858 534 4466
Audience
Faculty, Staff, Students, The General Public
Event Host
Department of Chemistry & Biochemistry / the Murray Goodman Endowment
Event Category