Apr 23, 2018 at 5:00 pm
On John Muir's Trail—Keynote Presentation by Donald Worster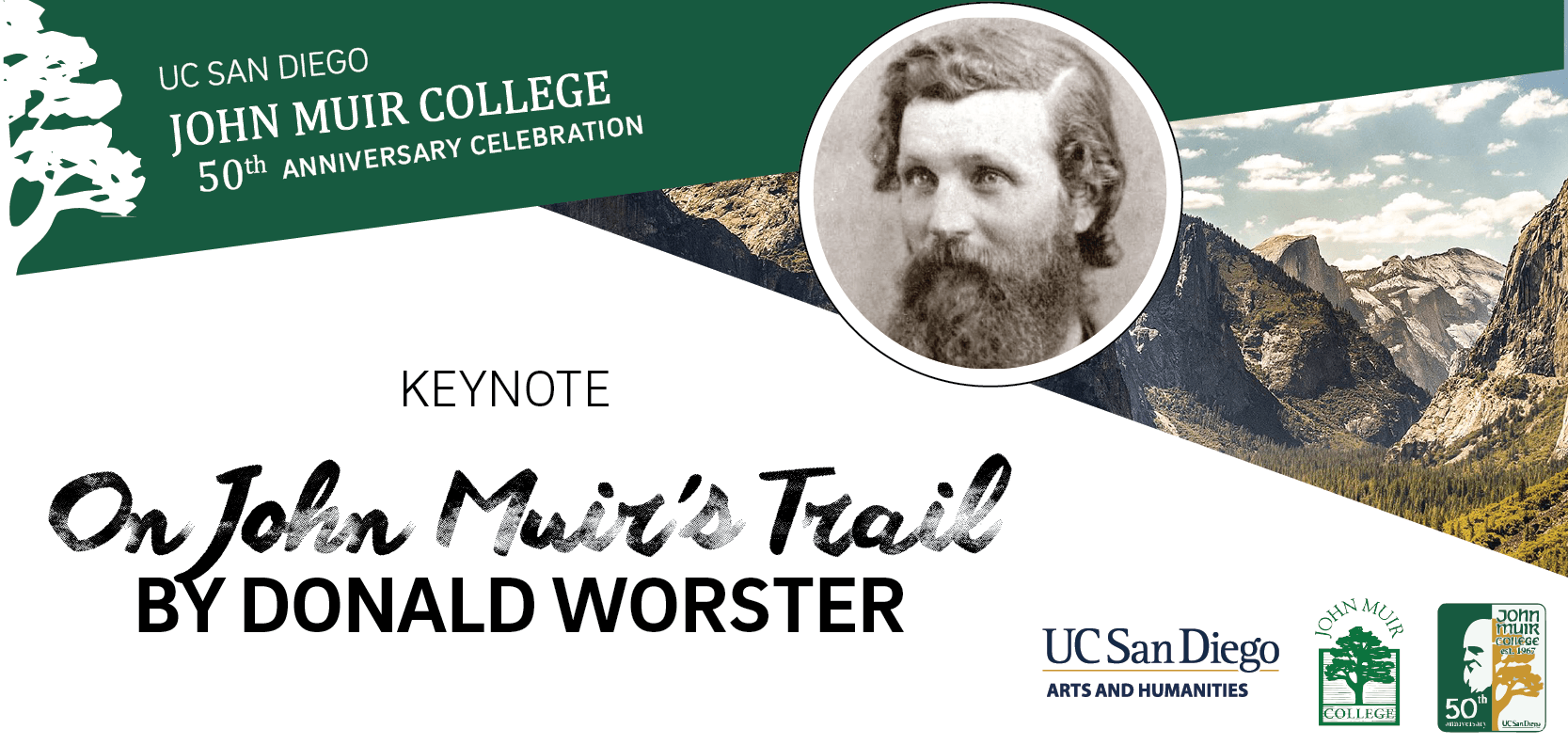 Please join us for a special keynote presentation as part of UC San Diego's John Muir College 50th Anniversary Celebration.
Join us for a special presentation by renowned historian and Muir scholar, Donald Worster, as he explores how attacks on environmentalism impact the Muir legacy, sharing the need to look for the complex truth of the man, his thought and passion, his role in history, and rediscover his relevance for today.
ABOUT THE SPEAKER: A native of the Mohave desert, Donald Worster is one of the founders of environmental history and a longtime historian of the American West. He is the author of "A Passion for Nature: The Life of John Muir" and its companion volume, "A River Running West: The Life of John Wesley Powell." Together, those biographies have won more than dozen prizes, including Scottish Book of the Year. His other writings have focused on the history of ecology, water and agriculture in the arid West, and most recently "Shrinking the Earth: The Rise and Decline of Natural Abundance." He lives in Oregon but spends much of his time teaching in Beijing and exploring China's history and landscapes.
Organized by Cristina Della Coletta, UC San Diego Dean of Arts and Humanities, John Moore (Muir College) and Serenella Iovino (University of Turin), this symposium, After the West: Rethinking John Muir, is an invitation to think again, with, and after John Muir on this open horizon.

Space is limited - please RSVP!
Date and Time
Apr 23, 2018 at 5:00 pm
Location
The Village at Torrey Pines, Building 1, 15th Floor
Event Registration
Registration for this event is required by Apr 23, 2018. Visit the registration page for details.

Event Fee
FREE
Contact
Joelle Fusaro • jmfusaro@ucsd.edu • 8588220733
Audience
Faculty, Staff, Students, The General Public
Event Host
The Division of Arts & Humanities, and John Muir College
Event Category