May 9, 2018 at 6:30 pm
Plate Tectonics Contributions of the Deep Sea Drilling Project at Scripps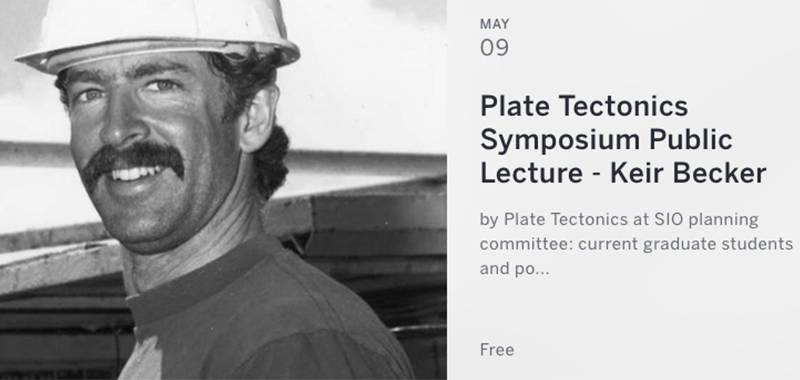 The public is invited to an evening lecture by Dr. Keir Becker, a professor at the University of Miami, an SIO Alum, and Shipboard Scientist for 21 scientific drilling expeditions.
50 years ago, the discovery of Plate Tectonics theory created a monumental shift in the way we think about Earth Science. Of the many people and institutions involved in the "Plate Tectonics Revolution" of the late 60's and early 70's, a notable portion were SIO graduate students and postdoctoral scholars. During the public lecture, Dr. Becker will talk about the revolutionary work done by the Deep Sea Drilling Program, which was based at Scripps from 1968–1983. This program cored and logged deep into oceanic sediment and rock, allowing us to explore part of the Earth never sampled before and directly proving the theory of plate tectonics.
This public lecture is apart of the two-day student-led Plate Tectonics Symposium at Scripps Institution of Oceanography.
Date and Time
May 9, 2018 at 6:30 pm
Location
Scripps Seaside Forum Auditorium
Event Registration
Registration for this event is required. Visit the registration page for details.

Event Fee
Free
Contact
Plate Tectonics Symposium Planning Committee • sioplatetectonics50@gmail.com
Audience
Faculty, Staff, Students, The General Public
Event Category