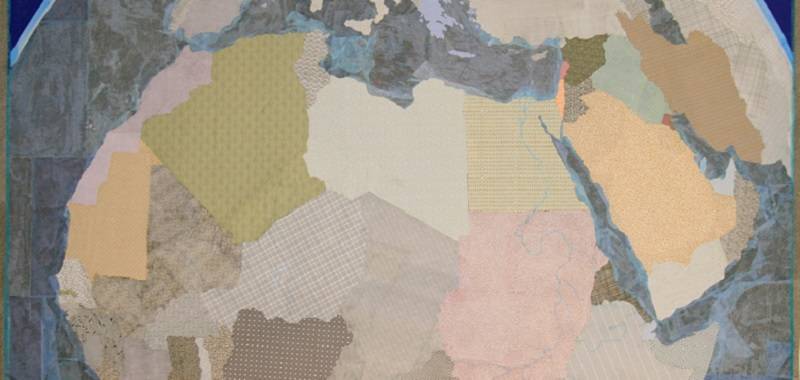 A Visual Arts Alumni Exhibition
October 12–December 7, 2017
Reception, October 12, Thursday, 5:30–8:00 PM
University Art Gallery, Mandeville Center
Gallery Hours: Tuesday–Thursday, 11:00 am–4:00 PM,
Open Fridays by Appointment
Closed: November 23 (Thanksgiving)
Curated by Tatiana Sizonenko, Ph.D., '13
Exploring a segment of the unique early history of the Visual Arts Department, Provoking Change celebrates an extraordinary roster of artists who came to study in San Diego in the early 1970s through the 1990s. Diverse in their approaches, these artists shared a desire to foster change by challenging the narrowly defined avant-garde canon as manifested in the formalism of the 1960s. In contrast to the influential American critic Clement Greenberg, who considered political art renegade and aesthetically inferior to the avant-garde, UC San Diego artists made art that introduced multi-cultural voices, pointed out women's underrepresentation in the arts, and revealed the pressing histories of immigration, class, and racism. By broadening art-making practices through daring experimentation and engagement with the highly-contested political and social subjects of the day, these artists helped transform and expand contemporary art.
Works on view in Provoking Change include painting, sculpture, photography, photomontage, film and video, and text-and-image installations. Standing at the forefront of the Pattern and Decoration Movement, the work of Kim MacConnel and Robert Kushner challenged the conventional idea of painting as a two-dimensional work on canvas. Executed as a kind of cloth hanging, both MacConnel's Turkish Delight and Kushner's Big Blue Chador question the long-standing pejorative dismissal of decoration. Hung Liu's Five Star Red Flag and German Shepherd, on the other hand, are a significant contribution to the revival of traditions of avant-garde painting in China. After arriving to UC San Diego, Liu mastered layered brushstrokes and drippy appearance of paint in her work that serve as a visual metaphor for the loss of historical memory. Alternatively, Jean Lowe opened the door to a social critique aesthetic within the realm of canvas, thus further transforming the idea of modernist painting. Lowe's Food For a Nation, a monumental canvas reminiscent of a baroque painting, features not a romanticized or heroic scene but rather a grim contemporary landscape depicting the environmental impact of industrial agro-business. This painting, put side by side with other work produced by Visual Arts alumni in the 1990s, invites viewers to rethink their place in our consumer society. Lastly, Heidi Hardin's portraits visualize the theme of identity, a subject that runs across many works of Visual Arts alumni. In Hardin's paintings, colorfully transcribed snapshots from family albums offer an evocative meditation on the different ethnicities that comprise families in America.
The exhibition's impressive array of paintings is complemented by groundbreaking works in photography. Included are photo-text installations by Allan Sekula and Fred Lonidier, who not only influenced a generation of new documentary photographers but also offered a model for post-documentary, conceptual, and leftist political photography. Sekula's School Is A Factory serves as a critical exploration of the limited career paths opened up by so-called "higher education" in the community colleges of Orange County. In turn, Lonidier's The Wedding of Lin Baron and Pauline Oliveros experiments with serial images and text, a kind of "silent film" approach, to document its socially-critical content, an early gay marriage ceremony.
Multimedia work by two collectives—David Avalos, Louis Hock, and Elizabeth Sisco, as well as David Avalos with Deborah Small—addresses complex issues of immigrant labor, border politics, and multiculturalism in California, while also transgressing established conventions of public art. Art Rebate/Arte Reembolsoby Sisco, Hock, and Avalos takes the form of a video performance installation. The work was conceived as a series of symbolic social and economic transactions between three artists and hundreds of Mexican and Central American unauthorized immigrant-laborers during three months of street performances. The trio orchestrated an unprecedented media campaign to promote debate about the relationship between citizens and undocumented workers in San Diego County's underground economy. In contrast, mis•ce•ge•NATION, an installation by Small and Avalos, combines casta images with a humorous experimental video-essay. The results critically reconsider California as a long-time home to Native Americans, Spaniards, Chinese, African-Americans, and Anglos, while also challenging conventional wisdom about the mixing of the races.
The pioneering interdisciplinary work of Visual Arts alumni, frequently combining collage, photography, video, writing, installation, performance, and activism, is represented by pieces from Susan Mogul and Doris Bittar. An active member of the Feminist Studio Workshop, a radical feminist art program led by Judy Chicago in Los Angeles, Mogul explores topics of female identity and sexuality. Waiting at the Soda Fountain, combining performance video with her photocollages, is a feminist parody about getting discovered in Hollywood and was originally part of an installation and performance at the Columbia Coffee Shop in Hollywood. Doris Bittar, on the other hand, uses the media of collage and mapping to respond to the world's anxieties and obsession with terrorism since 9-11. Her Secured States maps, created by cutting and pasting security envelope patterns collected from paychecks, bills and official documents, humorously reconcile border discrepancies arising from political or geographic issues and apply the correct security envelope patterns to make states and countries "safe" once again. Bittar's work frequently examines decorative motifs and how they intersect with historical and geopolitical legacies, while also addressing themes of place, identity, and spirituality.
The work of many Visual Arts alumni aligns well with the spirit of Allan Kaprow's investigation of art disappearing into life. The artworks on display can delight the senses, evoke emotions, arouse curiosity, and provoke debate about the nature and boundaries of art and art media. For example, Brian Dick's canvas-covered foam tires, from his larger installation No Rules Except…Yard, not only pay homage to the legacy of Kaprow but also significantly contribute to the making of a new kind of improvisational sculpture, often presented as a performative strategy that activates the work. In all, the exhibition spotlights those artists who have succeeded memorably in giving substance to their creative visions and whose work often transgressed the conventional media boundaries to connect object making with play, performance, and activism. The exhibition will be accompanied by film screenings and lecture-conversations with visiting alumni and will highlight the depth and breadth of the socially engaged and politically conscious art of the Visual Arts alumni at UC San Diego.
Participating Artists: David Avalos, Becky Cohen, Joyce Cutler-Shaw, Brian Dick, Doris Bittar, Kip Fullbeck, Heidi Hardin, Robert Kushner, Fred Lonidier, Jean Lowe, Hung Lui, Kim MacConnel, Susan Mogul, Allan Sekula, David Avalos/Louis Hock/Elizabeth Sisco (collective), David Avalos/Deborah Small (collective).
Acknowledgements: The Department of Visual Arts thanks participating artists and art galleries for their generous support and enthusiasm in helping to make this exhibition a reality, including the loan of works and coordination of shipments. We would particularly like to recognize Sally Stein and the Allan Sekula Trust; Collection of Doug Simay; Lynda Classen and Special Collections and Archives, UC San Diego Libraries; D C Moore Gallery, NYC; the Michael Benevento Gallery, Los Angeles; Art Connect International, San Francisco; and Art Works San Diego.
This program is sponsored in part by the Office of the Vice Chancellor for Equity, Diversity, and Inclusion. Any views or opinions expressed in this program are solely those of the speaker(s) and/or organizer(s) and do not necessarily represent those of the Office.
This program is supported through the Department of Visual Arts and Divison of Arts and Humanities at UC San Diego.
Art into Life: Visual Arts @ 50 series
From its foundation in 1967, the Visual Arts Department has been at the forefront of expanding the boundaries of art. Art into Life is a two-year program of exhibitions and events celebrating the contributions of department faculty, alumni, and students to making art the exciting and diverse field it is today. The programming in 2016–17 looked at the role of the department in developing new forms of politically and socially-engaged photography, in pioneering artificial intelligence as aesthetic production, in presenting the border as a site of collaboration and creativity, and in helping define post-formalist and neo-formalist painting. The 2017–18 series will further explore the department's contribution to culturally-conscious art as well as innovative new media and design practices.
The exhibition program kicks off with Provoking Change in the fall. It will continue with Stories that We Tell, centering on art concerned with identity, race, gender, feminism, and art production in the critical years of the 1960s-1990s. The following Kaprow Happening Now will highlight the legacy of Allan Kaprow and his contemporary relevance, while The Agency of Art will present how art has become a vehicle for analyzing and reframing key intellectual and social issues of the day. The program will conclude with the Undergraduate Art Show, curated and mounted under the direction of a faculty advisor.
Exploring theoretical movements in art from the early days of the department until now, Art into Life: Visual Arts @ 50 emphasizes the department's historic achievements through works created by the artists connected to it. Developed by a select committee of faculty, emeriti, and alumni, the series is designed to open a dialogue on the future of the department by presenting new synergies between political and social activism, art, and science, with environmental concerns playing a key role. Students and faculty from various departments across campus will collaborate in this program and showcase the interdisciplinary nature of the Visual Arts at UC San Diego.
Accompanying lectures and film screening events:
October 20, Friday, 3 pm
Race, Sex, and Tattooing: Navigating Identity with Kip Fulbeck
Performative lecture and film screening
Artist, filmmaker, spoken-word performer, and UC San Diego alumnus Kip Fulbeck traveled the U.S. photographing individuals and asking them to handwrite their response to the question, "What are you?" His multimedia performance weaves together these collected stories and images to explore sexuality, multiracial identity, and contemporary tattooing. Fulbeck has been featured in the New York Times and on CNN, MTV, the TODAY Show, Voice of America, and National Public Radio. He is the author several books including Part Asian, 100% Hapa and Mixed: Portraits of Multiracial Kids. His latest exhibition, Perseverance: Japanese Tattoo Tradition in a Modern World, is currently showing at the Canterbury Museum in New Zealand. Fulbeck is a professor of Art at UCSB, where he is the recipient of the Distinguished Teaching Award.
November 7, Tuesday, 6 PM
Pomp and Circumstance, Art and Life with Susan Mogul
Performative lecture
Visual Arts Presentation Lab, SME 149
From 1973 to 1975, Susan Mogul was an active member of the Feminist Studio Workshop at the Woman's Building in Los Angeles. Two years later, she became a student in the Visual Arts department at UC San Diego in order to get her Master of Fine Arts degree. How did Mogul negotiate her radical feminist alternative education, with a university art department comprised almost exclusively of male art professors? Mogul reflects on this question and interjects anecdotes about mentors Judy Chicago and David Antin, all the while placing her body of work at the intersection of art and life.
November 14, Tuesday, 6 PM
She Is Fierce: The Art of Joyce Cutler-Shaw with Becky Cohen
Film screening, Visual Arts Presentation Lab, SME 149
She Is Fierce: The Art of Joyce Cutler-Shaw, written and directed by Becky Cohen, is a 2016 documentary on Cutler-Shaw's intense body of work, featuring an in-depth interview with the artist and commentary from Erika Torri, Lynda Claassen, Gail Goldman, and UC San Diego Professor Mark Whitehead. A graduate of the UC San Diego Visual Arts Department, Cutler-Shaw's long career has taken many forms: ice works, artists' books, reflective light sculpture, drawing, museum installations, and large public commissions. Her subjects are human identity and the natural world; her themes are evolution and survival—"from reptile into bird, from mammal to human, and from human, perhaps, to humane." Cutler-Shaw uses drawing "as a way of knowing, as a mode of inquiry, as a visual language." Her most striking body of work, The Anatomy Lesson, devoted to the process of dying, has developed into The Brain Project, where the artist marks the progress of her own physical decline due to corticobasal syndrome. Her works are collected in museums and libraries worldwide, and her archive is now at the UC San Diego Special Collections Library. Cutler-Shaw was the first Artist-in-Residence at the UC San Diego School of Medicine.
Becky Cohen, also a graduate of the UC San Diego Visual Arts Department, will introduce She Is Fierce before the screening and answer questions in the end of the event.
Registration is not required for this event.