Mar 21, 2019 at 4:00 pm
Radhika Govindarajan, On the Political Lives of Cows, Rivers, and Mountains in Contemporary India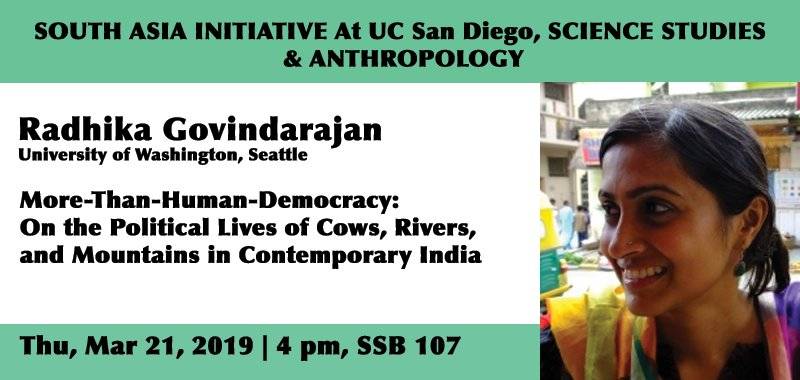 Radhika Govindarajan (University of Washington, Seattle), More-Than-Human-Democracy: On the Political Lives of Cows, Rivers, and Mountains in Contemporary India.
Abstract: This talk draws on ethnographic fieldwork among gau-rakshaks (cow-protectionists) and ordinary villagers in India's Central Himalayan state of Uttarakhand to explore the possibilities and limits of more-than-human politics. It seeks to understand how the specific terms on which nonhumans are recognized as political actors shapes the politics of more-than-human politics. More specifically, this talk asks what is at stake for right-wing cow-protectionists in having the cow constitutionally reclassified as "mother" instead of "animal". What does this particular gesture of kinship allow us to understand about the dark side of seemingly expansive political movements grounded in human kin relations with what might be called "nature"? In this talk, I argue that the grounding of this more-than-human politics in majoritarian ideology not only authorizes violence against those who are deemed enemies of a nation united around the figure of the mother-cow, but also fetishizes and naturalizes feminized bovine bodies and labor in ways that end up entrenching human domination over nature.
Bio: Radhika Govindrajan is an Assistant Professor of Anthropology at the University of Washington. She is the author of the book Animal Intimacies: Interspecies Relatedness in India's Central Himalayas, published by the University of Chicago Press in 2018.
Date and Time
Mar 21, 2019 at 4:00 pm
Location
Event Registration
Registration is not required for this event.

Event Fee
Free
Contact
South Asia Initiative • southasiaucsd@gmail.com
Audience
Faculty, Staff, Students
Event Host
South Asia Initiative, Dept of Anthropology and Science Studies.
Event Category