Apr 12, 2019 at 10:00 am
RadyX Technology Conference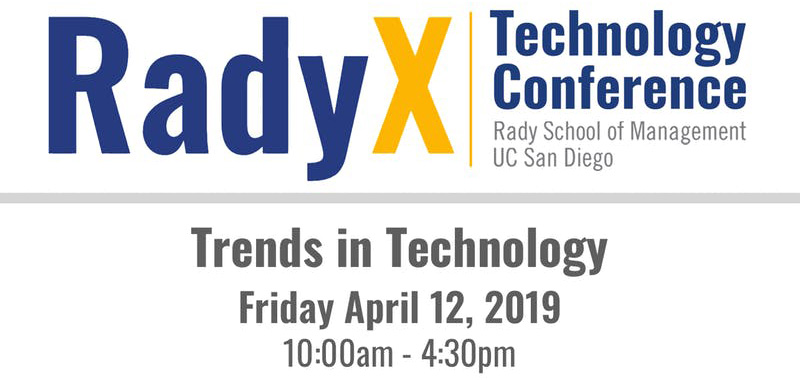 The Rady School of Management at UC San Diego welcomes you to our annual RadyX Technology Conference hosted by the Rady Tech Club. The Technology Conference brings together a diverse community: faculty and students, the business and engineering campuses, entrepreneurs, investors and corporate professionals. With this year's theme "Trends in Tech", speakers from Qualcomm, Amazon, Illumina and more will address topics anywhere from subtle to prominent trends in technology.
Date and Time
Apr 12, 2019 at 10:00 am
Location
Wells Fargo Hall (1N108) UC San Diego - Rady School of Management 9500 Gilman Dr, La Jolla, CA 92093
Event Registration
Registration for this event is required by Apr 12, 2019. Visit the registration page for details.

Event Fee
$10
Contact
Joey Talia • Joseph.Talia@rady.ucsd.edu
Audience
Faculty, Staff, Students, The General Public
Event Host
Rady Tech Club
Event Category