Feb 22, 2019 at 2:00 pm
Reclaim! Remain! Rebuild! Exhibition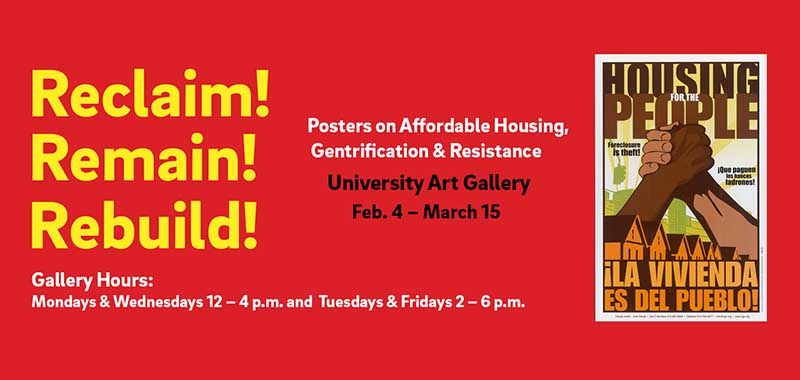 UC San Diego University Art Gallery - Mandeville Center
Reclaim! Remain! Rebuild! Posters on Affordable Housing, Gentrification & Resistance
Gallery Hours:
Mondays and Wednesdays 12 – 4 p.m. and Tuesdays and Fridays 2 – 6 p.m.
- Special Hours: Saturday March 2nd 2019 From 2pm to 6pm
Contact iah@ucsd.edu for more information about this exhibition.

This exhibit illustrates how gentrification and the lack of affordable housing are creating life-threatening conditions throughout the world—and posters are key for organizing resistance. They announce demonstrations, oppose demolitions, protest restrictive covenants, recruit for tenants unions, and support squatters' rights to move into abandoned buildings. Powerful graphics document victories and ongoing confrontations. And whether the residents win or lose, they become empowered in the process of fighting for the stability of their communities—and the posters record their struggle and their empowerment.
Produced by the Center for the Study of Political Graphics
Los Angeles, CA
The exhibition will be open to the public Feb. 4 – March 15;
Read more: https://ucsdnews.ucsd.edu/feature/institute-of-arts-and-humanities-receives-california-humanities-grant-for-community-conversations
Date and Time
Feb 13, 2019 at 12:00 pm
See more date(s) and/or time(s) below.
Location
Event Registration
Registration is not required for this event.

Event Fee
Free
Contact
Farshid Bazmandegan • fbazmand@ucsd.edu
Audience
Faculty, Staff, Students, The General Public
Event Host
The Institute of Arts and Humanities
Event Category
Concerts, Performances and Exhibitions
All Event Dates and Times