Mar 1, 2019 at 7:00 pm
red fish blue fish: Xenakis' Persephassa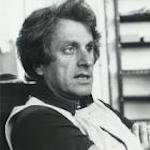 Persephassa (1969) is the first of Xenakis' innovative and ambitious works for percussion ensemble. The title refers to the goddess Persephone, "the personification of telluric forces and of transmutations of life." The piece was commissioned for the first-ever Shiraz Festival (organized by the Empress of Iran), held at the historic desert site of Persepolis—an awesome and altogether fitting setting for such a powerful work.
Persephassa gains much of its effect from having the six percussionists distributed around the audience. The treatment of space as a musical parameter is one of the most important preoccupations of Xenakis' music, particularly in his works of the mid-to-late 1960s.
Date and Time
Mar 1, 2019 at 7:00 pm
Location
Conrad Prebys Music Center
Event Registration
Registration is not required for this event.

Event Fee
FREE
Contact
UC San Diego Department of Music • publicity@music.ucsd.edu • 858-534-3230
Audience
Faculty, Staff, Students, The General Public
Event Host
UC San Diego Department of Music
Event Category