Apr 4, 2019 at 2:30 pm
Ritter Memorial Fellowship Lecture: "Air-Sea Relations Through History"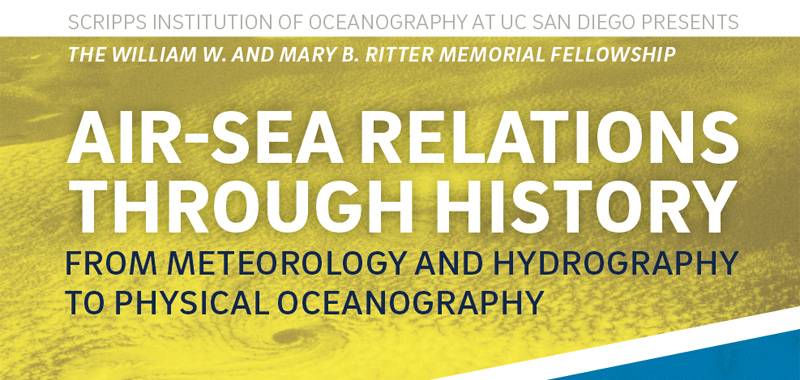 All are invited to a free public lecture by Scripps Oceanography's 2019 William E. and Mary B. Ritter Memorial Fellowship winner, Aitor Anduaga from the University of the Basque Country.
Anduaga's lecture, titled "Air-Sea Relations Through History: From Meteorology and Hydrography to Physical Oceanography," will take place on April 4, 2019 at 2:30 p.m. at the Robert Paine Scripps Forum for Science, Society & the Environment (Scripps Seaside Forum).
Description: For centuries, scientists and seamen have known that the atmosphere and ocean are closely related. Join Aitor Anduaga from the University of the Basque Country for a look at how the worlds of physical oceanography, meteorology, and hydrography have been intertwined over the past two centuries. Hear how scientists across several disciplines have developed tools and techniques to describe one of the most complex relationships on Earth.
Anduaga is the 15th recipient of the Ritter Memorial Fellowship, which was designed to encourage the study of the history of the marine sciences. Fellowship recipients may be historians, scientists, or other scholars whose research is likely to enlarge and deepen understanding of the history of the earth, ocean, and atmospheric sciences.
More information and a list of prize recipients is available at the Ritter Memorial Fellowship webpage.
Date and Time
Apr 4, 2019 at 2:30 pm
Location
Scripps Seaside Forum, 8610 Kennel Way La Jolla, CA 92037
Event Registration
Registration is not required for this event.

Event Fee
Free
Contact
Donna Shabkie • dshabkie@ucsd.edu
Audience
Faculty, Staff, Students, The General Public
Event Host
Scripps Institution of Oceanography
Event Category