Aug 1, 2019 at 4:30 pm
SCABS Quarterly Meeting of San Diego Cutaneous Biologists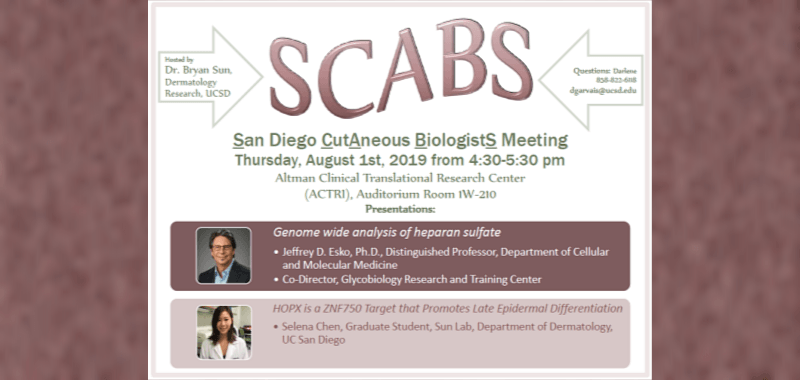 Two presentations:
Genome wide analysis of heparan sulfate
Jeffrey D. Esko, Ph.D., Distinguished Professor, Department of Cellular and Molecular Medicine,

Co-Director, Glycobiology Research and Training Center
HOPX is a ZNF750 Target that Promotes Late Epidermal Differentiation
Selena Chen, Graduate Student, Sun Lab, Department of Dermatology, UC San Diego
The presentations will be delivered between 4:30-5:30pm, on Thursday, August 1st, 2019, in the auditorium 1W-210, Altman Clinical & Translational Research Institute (ACTRI). Light refreshments will be served downstairs in L1W500 open conference area of the Dermatology Department. of the auditorium. This is a departure from routine since another event is held in the auditorium until 4pm. Remember, no food/beverage is allowed inside the auditorium.
Contact Darlene Garvais at dgarvais@ucsd.edu, or (858)822-6118, to RSVP and be entered in the email group for quarterly meeting announcements.
If you would consider presenting at a future meeting, please contact Darlene and she will follow up.
Date and Time
Aug 1, 2019 at 4:30 pm
Location
ACTRI auditorium 1W210, gather first at Dermatology Dept. open conference room L1W502 area
Event Registration
Registration is not required for this event.

Event Fee
Free
Contact
Darlene Garvais • dgarvais@ucsd.edu • 858-822-6118
Audience
Faculty, Staff, Students, The General Public
Event Host
Dr. Bryan Sun, MD, PhD, Department of Dermatology—Sun Lab
Event Category