Nov 29, 2018 at 7:00 pm
Sean Dowgray, percussion—Graduate Recital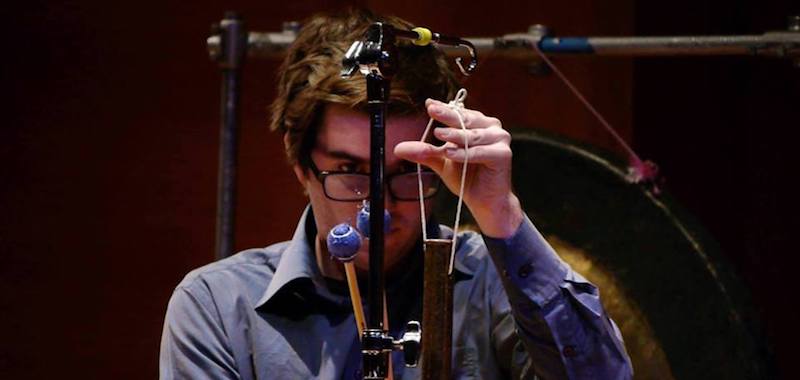 Richard Barrett: Urlicht (2013-2014) for vibraphone trio and auxiliary percussion, North-American Premiere,Dustin Donahue, Ryan Nestor, Sean Dowgray
Justin Murphy-Mancini: sic itur ad astra (2018) for harpsichord and percussion, World Premiere
Justin Murphy-Mancini, harpsichord; Sean Dowgray, percussion

Luciano Berio: Circles (1960) for voice, harp, and two percussionists
Susan Narucki, voice; Tasha Smith-Godinez, harp; Steven Schick & Sean Dowgray, percussion
Dowgray presents his second DMA recital entitled musica mundana | musica humana | musica instrumentalis featuring the brand-new work, sic itur ad astra by Justin Murphy-Mancini for harpsichord and percussion, the North-American premiere of Richard Barrett's Urlicht for vibraphone trio with auxiliary percussion, and the rarely performed Circles by Luciano Berio for voice, harp, and two percussionists.
Derived from the threefold classifications of music outlined in Anicius Boethius' De institutione musica, Dowgray's recital parses a fractured relationship between contemporary artistic trends and ancient theories of sonority. Cosmological perspectives and discoveries [mundana], experimentations in affect [humana], and considerations of the concert experience as a theater of over-abundant relationships [instrumentalis] are central to this program. By means of extended sonorities, techniques, gestures, and intent, Dowgray pursues expressive limits and celebrates the profoundly physical.
Dowgray will be joined by UC San Diego faculty members Susan Narucki (voice) and Steven Schick (percussion), UC San Diego alumni Dustin Donahue and Ryan Nestor (percussion), current UC San Diego graduate student Justin Murphy-Mancini (harpsichord), and inimitable new music harpist Tasha Smith Godinez.
Date and Time
Nov 29, 2018 at 7:00 pm
Location
Experimental Theater, Conrad Prebys Music Center
Event Registration
Registration is not required for this event.

Event Fee
Free
Contact
Alexis Negron • mus-publicity@cloud.ucsd.edu • 858-534-3230
Audience
Faculty, Staff, Students, The General Public
Event Host
Department of Music
Event Category