Dec 3, 2018 at 5:00 pm
Seminar Series at Qualcomm Institute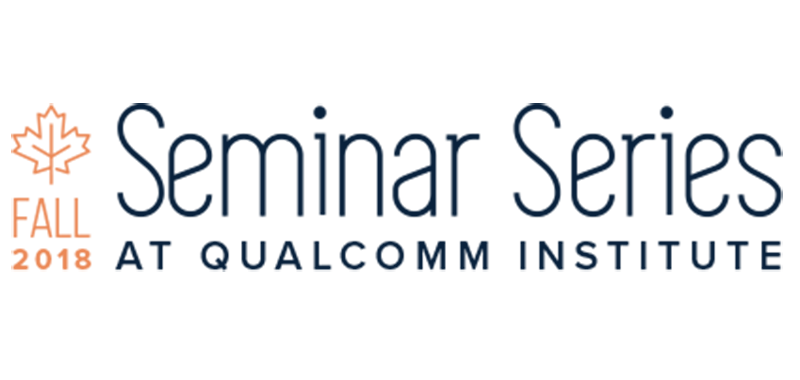 DISTINGUISHED SPEAKERS IN COMMUNICATION THEORY AND SYSTEMS
Qualcomm Institute and the Electrical and Computer Engineering Department present the first seminar series on communication theory and systems. Speakers will cover topics in diverse areas, including wireless, optical, location, storage and networking. The goal of this series is to promote the development and use of theory informed by the most recent advancements in the field. Industry speakers, prominent in theory and practice, will share their research and insights each week. This series is unique in that each speaker is expected to spend the day at UC San Diego's Qualcomm Institute and should be available for meetings and discussions with interested faculty, graduate students, and startups.
SCHEDULE:
*subject to change; check website
Oct 1: Natalia Varava, Partner Group Software Engineering Manager at Microsoft Azure
Oct 8: Sherman Chen, VP of Engineering at Broadcom
Oct 15: Vinko Erceg, Fellow at Broadcom
Oct 22: Ronny Hadani, CTO at Cohere Technologies
Oct 29: Frank Van Diggelen, Principal Engineer at Google
Nov 5: Steffen Hellmold, VP of Corporate Strategy at Western Digital
Nov 19: John Smee, VP of Engineering at Qualcomm
Nov 26: John Cioffi, Professor at Stanford University and CEO of ASSIA
Dec 3: Vasu Parthasarathy, Technical Director at Broadcom
Date and Time
Oct 1, 2018 at 5:00 pm
See more date(s) and/or time(s) below.
Location
Event Registration
Registration for this event is required. Visit the registration page for details.

Event Fee
Free
Contact
Joyce Hwang • johwang@eng.ucsd.edu • 858-534-2191
Audience
Faculty, Staff, Students, The General Public
Event Host
Nambi Seshadri
Event Category
All Event Dates and Times