Nov 16, 2017 at 2:00 pm
Shakespeare and Religion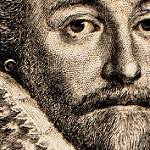 "The life of Shakespeare is a fine mystery and I tremble every day lest something should turn up," wrote Charles Dickens in 1847. How might we understand William Shakespeare as an author who lived and wrote in the wake of a religious Reformation in Western Europe, at a time when fundamental questions about doctrine, religious conformity, and biblical interpretation were intensively raised and debated? Come and join leading scholars of Shakespeare explore the mystery of his life and religious beliefs.
Date and Time
Nov 16, 2017 at 2:00 pm
Location
Room 15-A, The Village at Torrey Pines West #1, UCSD
Event Registration
Registration is not required for this event.

Event Fee
Free
Contact
Tania Mayer • religion@ucsd.edu • 858-534-8849
Audience
Faculty, Staff, Students, The General Public
Event Host
Program for the Study of Religion
Event Category