Sep 18, 2017 at 9:00 am
Shelly Schultz Symposium: A Life in Science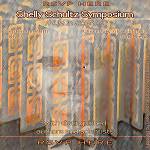 The Shelly Schultz Symposium celebrates the vast achievements of Sheldon "Shelly" Schultz, the late professor of physics who, along with colleagues, discovered metamaterials that were recognized as a scientific breakthrough by the journal "Science" in 2003. Their research created a new class of materials that have unique optical properties and have been used in a number of modern technological applications, including manipulating light to force it to circumvent objects, creating a so-called "cloak of invisibility"—similar to the one made famous in the Harry Potter books and films. Several key physicists, including UC San Diego alumni and professors, will be presenting.
Date and Time
Sep 18, 2017 at 9:00 am
Location
UC San Diego Ida and Cecil Green Faculty Club
Event Registration
Registration for this event is required by Sep 18, 2017.
Event Fee
Free
Contact
Oleg Shpyrko • oleg@physics.ucsd.edu
Audience
Faculty, Staff, Students, The General Public
Event Host
UC San Diego Department of Physics
Event Category