May 17, 2018 at 10:00 am
SideWalk-CPR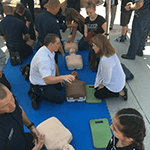 Five minutes is all it takes to learn hands-only CPR. Learn the signs when someone is in Sudden Cardiac Arrest. Knowing these lifesaving basic skills can make all the difference before emergency help arrives. Drop by on your way to work.
Date and Time
May 17, 2018 at 10:00 am
Location
Event Registration
Registration is not required for this event.

Event Fee
Free
Contact
Barbara Haynor • bhaynor@ucsd.edu • 858-534-3823
Audience
Faculty, Staff, Students, The General Public
Event Host
Environment, Health & Safety
Event Category