Feb 14, 2019 at 9:30 am
SoCal Stem Cell Seminar Series, Presents: April Pyle, Ph.D.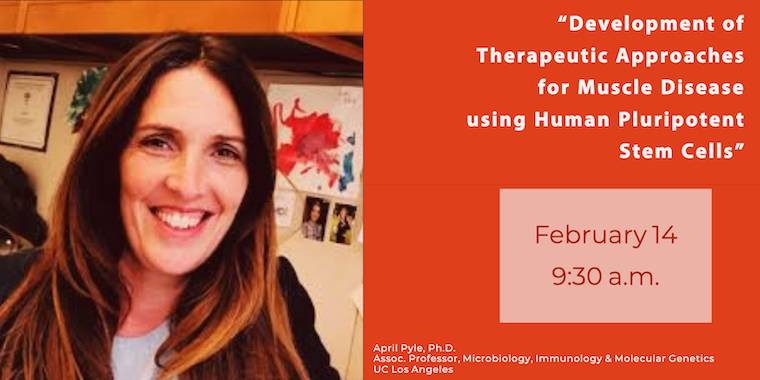 "Development of Therapeutic Approaches for Muscle Disease using Human Pluripotent Stem Cells"
April Pyle, Ph.D. Associate Professor, Microbiology, Immunology & Molecular Genetics University of California, Los Angeles Lab Website
(Hot breakfast starts at 9:00 am provided by Bella Vista Café)
Dr. Pyle is a Professor in Department of Microbiology, Immunology and Molecular Genetics (MIMG), a member of the Eli and Edythe Broad Center of Regenerative Medicine and Stem Cell Research (BSCRC) and Center for Duchenne Muscular Dystrophy (CDMD) at UCLA. Dr. Pyle completed her postdoctoral fellowship work with Peter Donovan in 2006 at Johns Hopkins University. Dr. Pyle's lab uses multi-disciplinary approaches to study human pluripotent stem cell biology and differentiation of these cells for use in regenerative medicine. Dr. Pyle's lab studies both basic aspects of stem cell biology, reprogramming, and muscle development as well as more translational aspects of human pluripotent stem cell differentiation towards skeletal muscle for use in therapeutic approaches for patients with Duchenne Muscular Dystrophy (DMD). Her work is funding by NIH, CDMD, CIRM, BSCRC, and CTSI. Human pluripotent stem cells (hPSCs) have enormous potential for use in regenerative medicine, in patient-specific screening and as a model for understanding human development. A main focus of the lab is interested in understanding how skeletal muscle progenitor cells arise in human development and development of CRISPR correction strategies for DMD. We are developing approaches to directly deliver CRISPR components in vivo and combining gene editing and muscle progenitor cells for restoring muscle function in DMD.
The Stem Cell Program was founded on the unique strengths of the UC San Diego research community, with its unparalleled cross-disciplinary collaborations and strong basic and comparative biomedical science programs.
The Southern California Stem Cell Seminar Series is intended to stimulate the exchange of experience with researchers outside of UC San Diego, enhance interactions with sister institutions and biomedical campuses, and promote education in stem cell research.
The monthly Stem Cell Seminar Series brings scientists from all over the world to the forefront of regenerative medicine and emphasizes the basic research and translational themes of stem cell research. These seminars provide an opportunity for the "Mesa" community to learn about the work being done by prestigious researchers from other institutions, preview unpublished scientific results, initiate collaborations and build networks. The speakers invited provide novel insights into stem cell functions, tissue development, and cell-based approaches for the treatment of diseases.
We strive to promote unparalleled cross-disciplinary collaborations and strong basic and comparative biomedical science programs and support development of essential core facilities and facilitate training and educational activities.
Goals
These goals are accomplished through presentations by distinguished invited speakers from various avenues of stem cell research and by poster presentations by graduate students and post-docs.
Date and Time
Feb 14, 2019 at 9:30 am
Location
Sanford Consortium, Room 1013A/B, off the lobby
Event Registration
Registration is not required for this event.

Event Fee
Free
Contact
Marci Murray • mjmurray@ucsd.edu • 858-534-8510
Audience
Faculty, Staff, Students, The General Public
Event Host
UC San Diego Stem Cell Program
Event Category