Sep 12, 2019 at 9:30 am
Southern California Stem Cell Seminar Series: September, Speaker, Marius Wernig, MD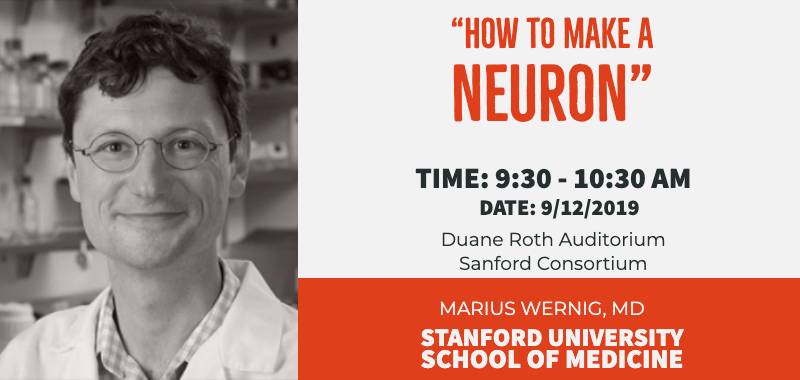 Southern California Stem Cell Seminar Series: September Speaker, Marius Wernig, MD
"How to Make a Neuron"
Professor of Pathology
Pathology Stem Cell Institute
Associate Professor Institute for Stem Cell Biology and Regenerative Medicine
Stanford University
Associate Physician, Pediatrics
UC San Diego Health Sciences
Professor of Human Genetics Program
Director, Center for Stem Cells & Regenerative Medicine
Sanford Children's Health Research Center
Sign up to receive notifications regarding events for Stem Cell and Regenerative Medicine Inter-institutional community
Ucsdscpevents-L
Marius Wernig, MD Bio
Dr. Wernig is a Professor of Pathology and Co-Director of the Institute for Stem Cell Biology and Regenerative Medicine at Stanford University. Originally from Austria, he graduated with an M.D. Ph.D. from the Technical University of Munich where he trained in developmental genetics in the lab of Rudi Balling. After completing his residency in Neuropathology and General Pathology at the University of Bonn, he became a postdoctoral fellow in the lab of Dr. Rudolf Jaenisch at the Whitehead Institute for Biomedical Research at MIT. In 2008, Dr. Wernig joined the faculty of the Institute for Stem Cell Biology and Regenerative Medicine and the Department of Pathology at Stanford University where he has been ever since. He received an NIH Pathway to Independence Award and has since received many other awards, including the Cozzarelli Prize for outstanding scientific excellence from the National Academy of Sciences U.S.A. the Outstanding Investigator Award from the International Society for Stem Cell Research, the New York Stem Cell Foundation Robertson Stem Cell Prize, a HHMI Faculty Scholar Award, and more recently the Ogawa-Yamanaka Stem Cell Prize.
Dr. Wernig's lab is interested in pluripotent stem cell biology and the molecular determinants of neural cell fate decisions. His laboratory was the first to generate functional neuronal cells reprogrammed directly from skin fibroblasts, which he termed induced neuronal (iN) cells. The lab is now working on identifying the molecular mechanisms underlying induced lineage fate changes, the phenotypic consequences of disease-causing mutations in human neurons and other neural lineages as well as the development of novel therapeutic gene targeting and cell transplantation-based strategies for a variety of monogenetic diseases.
Date and Time
Sep 12, 2019 at 9:30 am
Location
Duane Roth Auditorium, Sanford Consortium for Regenerative Medicine
Event Registration
Registration for this event is required by Sep 12, 2019. Visit the registration page for details.

Event Fee
Free, registration requested
Contact
Marci Murray • mjmurray@ucsd.edu • 858-534-8510
Audience
Faculty, Staff, Students, The General Public
Event Host
Evan Snyder, MD, PhD, and Stem Cell Program
Event Category