May 14, 2018 at 8:30 am
Staff Education & Development Annual Learning Event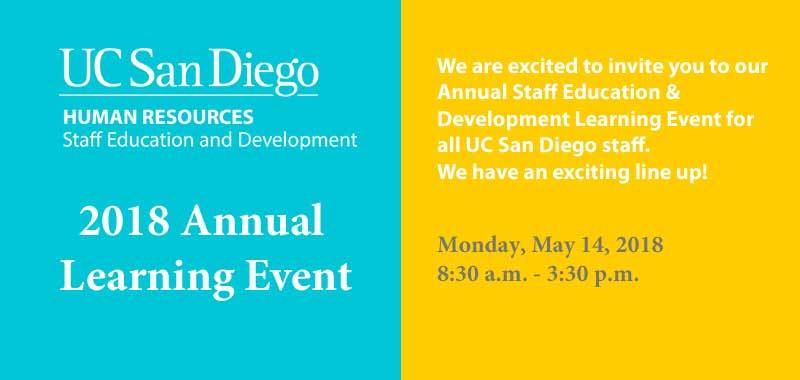 We are exited to invite you to our Annual Staff Education & Development Learning Event for all UC San Diego staff. We have an exciting line up!
Our two strategic topics are:
1) Recognize & Interrupt Bias with Intentional Inclusion
2) Emotional Intelligence and Mindfulness @ Work
Monday, May 14, 2018
8:30 a.m.–3:30 p.m. (coffee & pastries 8:00–8:30 a.m.; lunch provided)
Price Center-West, Ballroom AB
Register for the morning session, the afternoon session, or both sessions via the UC Learning Center using keyword lrngevent.
Overview of the Morning Session: Manage implicit bias through understanding, awareness and strategies to interrupt implicit bias using an interactive experience
A 2.5-hour highly interactive learning experience will demonstrate several of the unintentional ways that implicit associations influence and inform the large and small decisions we make on a daily basis.
Overview of Afternoon Session: Enable intelligent self-care with tactics that connect the dots between EQ, focus and attention at work that achieves better results
A 2.5-hour highly experiential workshop will educate staff about what is emotional intelligence (EQ) and mindfulness with applications in the workplace. Staff will learn tools and techniques to build increased awareness of mindsets and learn ways to develop new behaviors and habits.
See the full schedule in the UC Learning Center, and register for one or both sessions soon!
Date and Time
May 14, 2018 at 8:30 am
Location
Price Center-West, Ballroom AB
Event Registration
Registration for this event is required by May 7, 2018. Visit the registration page for details.

Event Fee
Free
Contact
Staff Education & Development • staffeducation@ucsd.edu • 858-534-4890
Audience
Staff
Event Host
Staff Education & Development
Event Category