Oct 3, 2017 at 11:30 am
Startups & Pizza: Market and Product Research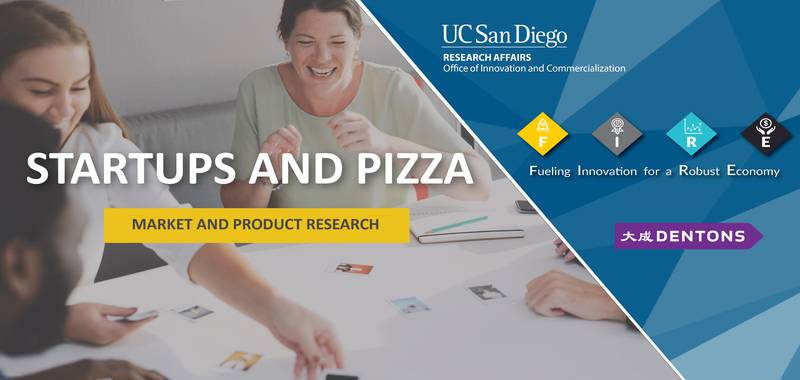 UC San Diego Office of Innovation and Commercialization is partnering with Dentons and Tiber Creek on a seminar series on what you need to know about forming a startup company.
About Dentons: At Dentons, we bring together top-tier talent found at the intersection of geography, industry knowledge and substantive legal expertise. Connecting you to more lawyers and services in more locations reflects how we see the practice of law changing—we view our offices as portals that deliver the legal talent and insights you need, from around the corner and around the world.
About Tiber Creek Partners: Tiber Creek Partners, LLC provides subject matter expertise, including scientific and business counseling, to biotechnology companies that seek to use non-dilutive capital from the U.S. Government, foreign governments, and non-governmental organizations as part of their commercialization objectives. We offer a full understanding of funding and procurement opportunities and help communicate the advantages and the state of development of our clients' technology so that it resonates most effectively with funding and purchasing decision-makers.
Location: Fung Auditorium, Powell-Focht Bioengineering Hall, Jacobs School of Engineering, UC San Diego
Maplink: https://goo.gl/maps/ikVmWVhujE42
Parking: Hopkins Parking Structure (P502) - https://goo.gl/maps/NXjXMUiy6Yy
Time: 11:30am to 1:30pm
Pizza provided.
Date and Time
Oct 3, 2017 at 11:30 am
Location
Fung Auditorium - Bioengineering Hall
Event Registration
Registration for this event is required.
Event Fee
Free
Contact
Gwen Sands • innovation@ucsd.edu • 858-534-5815 (office front desk)
Audience
Faculty, Staff, Students, The General Public
Event Host
UC San Diego Office of Innovation & Commercialization
Event Category