Aug 7, 2017 at 1:00 pm
Stuart Collection Opening Reception: "The Wind Garden" by Composer John Luther Adams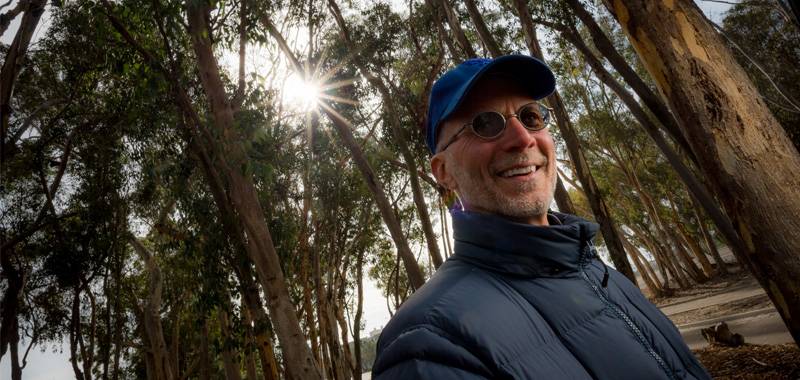 It's early morning and you're strolling through a grove of eucalyptus trees when you hear the sounds, like bells softly trilling. Or is the wind whispering through the tall branches above? It is not your imagination; you have discovered the "The Wind Garden," the 19th public art work of the renowned Stuart Collection at UC San Diego. In this installation by Pulitzer Prize-winning composer John Luther Adams, the leafed choir sings in response to the subtle shifts in light, wind and seasons.
The campus and local community are invited to explore the new installation at a public reception with the artist from 1-3 p.m. on Aug. 7. Located in the grove adjacent to the Mandel Weiss Theater in the Joan and Irwin Jacobs Theatre District, "The Wind Garden" is currently serenading visitors at all hours of the day and night—often to the surprise of unsuspecting passers-by.
The installation is meant to be essentially invisible. Thirty-two eucalyptus trees have been fitted with motion and light sensors that translate varying forces of wind and changing light patterns into sound instantaneously by sophisticated software. Speakers high in the canopy above project the sound, louder during strong gusts and sunny, summer weather; while subwoofers at ground level emanate more subtle, deep tones as darkness descends and winter prevails.
Adams, whose career as a composer has spanned four decades, has been creating sonic installations for the past 12 years. In 2014, Adams was awarded the Pulitzer Prize in Music for his work, "Become Ocean," an orchestra that addresses the effects of global warming and our changing earth. A year later he received a Grammy for Best Contemporary Classical Composition for the same piece. His works today, especially "The Wind Garden," are imbued with this reverence for the earth.
Date and Time
Aug 7, 2017 at 1:00 pm
Location
Eucalyptus grove near Mandel Weiss Theatre, Joan and Irwin Jacobs Theatre District
Event Registration
Registration is not required for this event.

Event Fee
Free
Contact
Jane Zwerneman • jzwerneman@ucsd.edu • 858-534-2117
Audience
Faculty, Staff, Students, The General Public
Event Host
Stuart Collection at UC San Diego
Event Category