Jun 12, 2019–Jun 13, 2019
SUMMER CLINICAL INSTITUTE IN ADDICTION STUDIES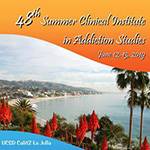 Center for Criminality & Addiction Research, Training & Application presents
48th Annual Summer Clinical Institute in Addiction Studies (SCI 2019)
University of California San Diego
Calit2 Auditorium
9500 Gilman Drive, La Jolla, CA 92093
Please join us for the 48th Annual Summer Clinical Institute in Addiction Studies, June 12–June 13, 2019. The annual symposium includes plenary sessions and workshops that will be presented by UC San Diego faculty and others who are experts in the fields of substance abuse, adolescent brain development, opioid addiction, motivational interviewing, recovering brain, addiction treatment and much more. To view the complete agenda, please visit www.ucsdsci.com
Continuing Education Hours Available: SCI attendees can earn up to 13 continuing education units.
To find out more about the Summer Clinical Institute in Addiction Studies, please visit us online www.ucsdsci.com, email sci@ucsd.edu or call (858) 822-4375.
Date and Time
Jun 12, 2019–Jun 13, 2019
Location
California Institute for Telecommunications and Information Technology (Calit2)- Atkinson Hall
Event Registration
Registration for this event is required by Jun 12, 2019. Visit the registration page for details.

Event Fee
$0–$250
Contact
Norman Jackson • ndjackson@ucsd.edu • 858-822-4375
Audience
Faculty, Staff, Students, The General Public
Event Host
UC San Diego Center for Criminality & Addiction Research, Training & Application
Event Category