Apr 5, 2018 at 6:00 pm
The James K. Binder Lectureship in Literature Presents: Barbara Mittler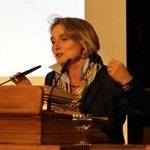 How do beauties touch their men and when and where does this become visible? Put differently: How does feeling matter and what shapes does it take both textually and visually? Does it make a difference whether the depicted is a film star or a commoner, a revolutionary or a bourgeois? And how are these depictions read by contemporary audiences? Does it matter what these audiences remember to have seen, touched, experienced somewhere before? Surveying women's magazines and other entertainment media published throughout China's long 20th century, this lecture discusses the politics of feeling. It will show how form, material and color take on ever-changing meanings and continually reshape the ways in which beauty and intimacy can be played out visually and textually and thus experienced and touched by the audiences reading these publications. The lecture will thus trace textual and visual evidence for dominant and prescribed as well as subdued and subversive modes of seeing, touching and feeling and reflect on the importance of intertextual and intervisual memory-making in this process.
Date and Time
Apr 5, 2018 at 6:00 pm
Location
The Atkinson Pavilion at the Faculty Club UC San Diego
Event Registration
Registration is not required for this event.

Event Fee
Free
Contact
Derrick Chin • derrickchin@ucsd.edu • 858-534-4618
Audience
Faculty, Students, The General Public
Event Host
Yingjin Zhang
Event Category