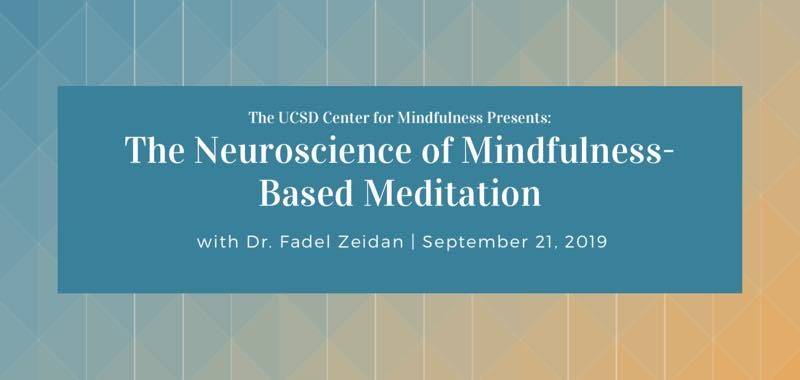 The Neuroscience of Mindfulness-Based Meditation: An Integration of Science and Practice
The Neuroscience of Mindfulness-Based Meditation workshop is an all day workshop conducted by Dr. Fadel Zeidan and mindfulness-certified teachers at the UC San Diego Center for Mindfulness. Dr. Zeidan will provide an easily understandable delineation of the neural, physiological and psychological processes supporting mindfulness-based pain relief and health promotion. He will delve into research demonstrating how mindfulness changes the brain, is different from placebo and other meditative practices, and involved processes that are unique and distinct from other mind-body approaches. There will also be section focused on the role of compassion meditation and the corresponding health benefits. We will also teach participants how to practice a spectrum of mindfulness techniques, including breath awareness, vipassana, eating and walking mindfulness, and mindfulness-based compassion. Importantly, these techniques are the same as the ones validated in Dr. Zeidan's research.
Further, participants will learn how to share mindfulness with their patients,clients, and loved ones.
Objectives
At the completion of this workshop, the participants should be able to:
Demonstrate how to practice a wide spectrum of mindfulness meditation techniques and tools
G

ain a

deep understanding behind the neuroscience of meditation presented in a user friendly fashion
Apply mind/body approaches to a range of disorders and a condition based on Fadel and other's own research.
Implement mindfulness in clinical settings
Identify the psychological and physiological mechanisms involved in mindfulness
Describe the best mindfulness-approach for different patient populations
Target Audience
This intensive training is designed for Athletic Trainers, Bodyworkers, Certified Counselors, Nurses and nurse practitioners, Psychologists, Registered Dietitians, Social Workers, Yoga Instructors, Coaches, Physicians, Counselors, Substance abuse professionals, Dentists, Occupational therapists, Physical therapists, Massage therapists. Educators, Speech pathologists, Pharmacists.
This program is also open for members of the general public.
All are welcome!
Program Trainer
Dr. Fadel Zeidan, Ph.D. is an assistant professor of Anesthesiology at the University of California at San Diego (UC San Diego) and Associate Director of Research at the UC San Diego Center for Mindfulness. Dr. Zeidan is an internationally recognized neuroscientist for his work on identifying the brain processes supporting the modulation of pain and promotion of health by mindfulness meditation. He has presented his work at numerous avenues such as Tedx, the National Institutes of Health and has personally presented his research to His Holiness the Dalai Lama in Mongolia.
Dr. Zeidan's website: https://www.zeidanlab.com/
Continuing Education Credit
Psychologists: This program is sponsored by UC San Diego Center for Mindfulness. The UC San Diego Center for Mindfulness is approved by the American Psychological Association to sponsor continuing education for psychologists. The UC San Diego Center for Mindfulness maintains responsibility for this program and its content. This course offers 5.5 contact hours of credit.
California licensed MFTs, LPCCs, LEPs, LCSWs: This activity is an approved continuing education program by the American Psychological Association. Contact hours may be applied to your license renewal through the California Board of Behavioral Sciences. For those licensed outside California, please check with your local licensing board to determine if APA accreditation meets their requirements.
Nurses: UC San Diego Center for Mindfulness is approved by the California Board of Registered Nursing, Provider Number CEP16351, for 6.5 contact hours.
Cultural and Linguistic Competency Statement
This activity is in compliance with California Assembly Bill 1195 which requires continuing medical education activities with patient care components to include curriculum in the subjects of cultural and linguistic competency. Cultural competency is defined as a set of integrated attitudes, knowledge, and skills that enables health care professionals or organizations to care effectively for patients from diverse cultures, groups, and communities. Linguistic competency is defined as the ability of a physician or surgeon to provide patients who do not speak English or who have limited ability to speak English, direct communication in the patient's primary language. Cultural and linguistic competency was incorporated into the planning of this activity. Additional resources can be found on the UC San Diego CME website.
Tentative Schedule
Registration: 8:30 am
Morning Session: 9:00 am –12:00 Noon
Lunch (on your own)
Afternoon Session: 1:00 pm – 5 pm
Continuing Education Credit Fees
Continuing education credits for participation in this program are available.
Cancellation Policy
A refund (minus your $50 non-refundable and non-transferable deposit) will be made for cancellations submitted in writing on or before a date 14 days prior to the start of the program. No refunds will be allowed after this date.
In the unlikely event that the course is cancelled, UC San Diego Center for Mindfulness is responsible only for a full refund of the registration fee and not for transportation, hotel accommodations or any miscellaneous expenses.
Registration for this event is required by Sep 20, 2019. Visit the registration page for details.