Apr 6, 2019 at 9:00 am
The Pepper Canyon Mobility Hub Design+Hackathon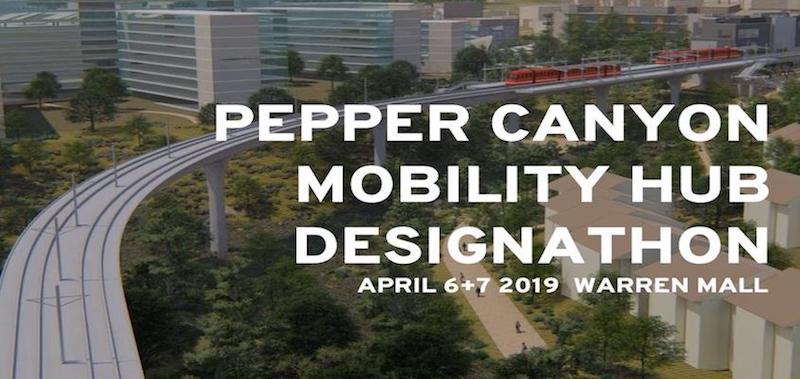 THE PEPPER CANYON MOBILITY HUB DESIGNATHON will bring together 100+ interdisciplinary students, neighbors, and future transit users from UC San Diego and across San Diego to develop services, solutions, and speculations that will help transform the incoming Pepper Canyon Trolley Station on UC San Diego's campus, currently under construction, into a dynamic multimodal mobility hub.
DESIGNATHONS are intensive, immersive events where interdisciplinary teams design solutions to real world challenges. Designathons deploy user-centered design techniques including observation, prototyping, testing, iteration, and storytelling.
Undergraduates, graduate students, high school students, neighbors, designers, engineers, technologists, media-makers, planners, artists, future users, and youth are all welcome to participate. Teams include 3–7 participants: fully-formed teams, partial teams, and individuals are welcome to register.
Date and Time
Apr 6, 2019 at 9:00 am
See more date(s) and/or time(s) below.
Location
Event Registration
Registration for this event is required by Mar 26, 2019. Visit the registration page for details.

Event Fee
Free
Contact
Nina Baker • nabaker@ucsd.edu • 858-534-2822
Audience
Faculty, Staff, Students, The General Public
Event Host
UC San Diego Design Lab
Event Category
Conferences, Workshops and Symposia
All Event Dates and Times