Oct 10, 2017 at 5:00 pm
The Photography of Norman Spencer: Exhibit Opening Reception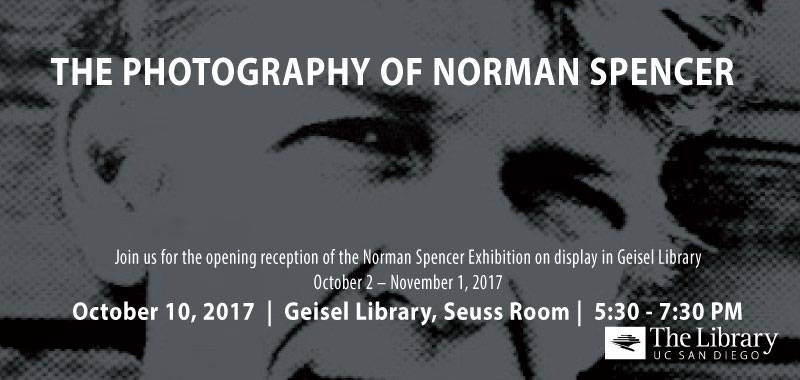 Norman A. Spencer (Ph.D., SUNY Stony Brook) taught at China University of Communication in 2001-2002 and has published on Chinese art and literature. Through his connection with Beijing artists and his field base in Dali, Yunnan in Southwest China, he has closely followed the development of Chinese independent filmmaking. Bei Dao's Hong Kong-based journal Today (Jintian) carried an interview with Professor Spencer on his cultural activities in China in 2007. Professor Spencer's photography memoir "Ten Years of Queer Cinema" appeared in the twentieth anniversary issue of Positions: East Asia Cultures Critique (2012), a leading academic journal published by Duke University Press. Professor Spencer's photographs captured the intimate moments of key players in Chinese alternative culture, especially queer cinema. The collection of his photographs enhances the UC San Diego Library's world-renowned reputation as the best place to study underground and independent Chinese cinema.
Professor Spencer was active in the Civil Rights Movement in the American South during the early 1960s. He attended the Highlander Folk School where the famous song "We Shall Overcome" originated. He was a member of the Student Nonviolent Coordinating Committe (SNCC) and Students for a Democratic Society (SDS) while he was a student at Sewanee: The University of the South which was racially segregated during this period. Later he fought in the Vietnam War as a seaman in the U.S. Navy but was active in the anti-war movement when he returned to the U.S. He did a M.A. at San Francisco State University when it was a center for the Black Arts Movement and later wrote a Ph.D dissertation under the direction Amiri Baraka/LeRoi Jones, the radical African American writer, intellectual and political activist, at the State University of New York at Stony Brook.
Professor Spencer currently lives in New York City and is a full time professor of English at State University of New York at Nassau. He is married to Peng Xiaojian (Shanghai, 1974). They have a house in a Bai (minority) village near Old Dali in Yunnan Province in the south of China where they spend their vacations and sabbatical leaves.
Date and Time
Oct 10, 2017 at 5:00 pm
Location
Event Registration
Registration is not required for this event.

Event Fee
FRee
Contact
Xi Chen • xichen031@ucsd.edu
Audience
Faculty, Staff, Students, The General Public
Event Host
UC San Diego Library
Event Category