Aug 24, 2018 at 8:30 am
The Practice of Listening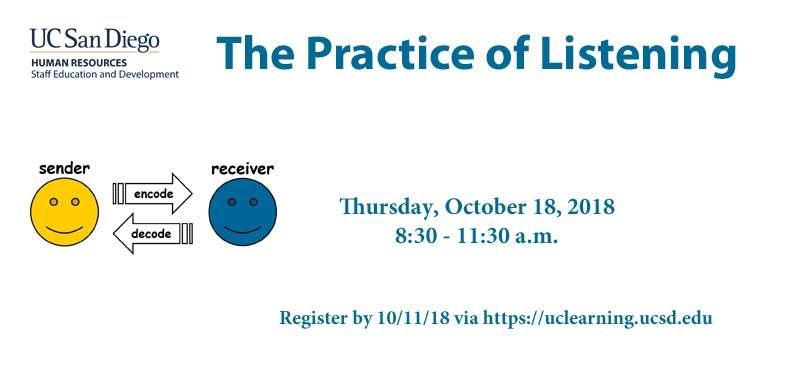 Effective listening is the number one skill needed for success in the workplace, but even those who have had training in listening skills often find it a challenge. Not everyone listens in the same way and not everyone listens for the same things. Differences in listening styles can create rapport or misunderstanding and contributes to positive or challenging working relationships. The Practice of Listening is based on a test called the Personal Listening Profile, a popular and effective instrument that identifies individual listening patterns.
Topics include:
Taking the Personal Listening Profile
Understanding five listening styles
Interpreting your results
Identifying ways to relate more effectively to others with different listening styles
Identifying ways to improve your own effectiveness as a listener.
To Register:
Login to the UC Learning Center by going to https://uclearning.ucsd.edu, or through the Personal Tools menu on Blink, using your Single Sign-On.
Click the FIND A COURSE button, and type the workshop title or keyword in the search box, then click the Enter button.
Using the Select button to the right of the activity name, click REGISTER in order to see the available date(s).
Select the offering of the activity you wish to attend by selecting the small circle next to the blue box.
Click SUBMIT to finalize your registration
Remember, if you don't receive a confirmation e-mail from Staff Education & Development, your registration did not complete.
If you have any questions, please contact Staff Education & Development, staffeducation@ucsd.edu or (858)534-4890.
Date and Time
Aug 24, 2018 at 8:30 am
Location
Learning Center (Torrey Pines Center-South, Suite 265A (TPC-S 265A))
Event Registration
Registration for this event is required by Oct 11, 2018. Visit the registration page for details.

Event Fee
25.00
Contact
Staff Education & Development • staffeducation@ucsd.edu. • 858-534-4890
Audience
Staff
Event Host
Staff Education & Development
Event Category