Mar 21, 2018 at 5:00 pm
The Return of Religion and China's Future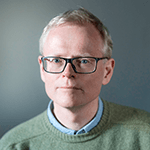 Following a century of violent anti-religious campaigns, China is now filled with new temples, churches and mosques—as well as cults, sects and politicians trying to harness religion for their own ends. What does the return of religion mean for China's future? Acclaimed journalist and writer Ian Johnson will try to answer this question in the Sixth Annual Robert F. Ellsworth Memorial Lecture.
Ian Johnson is a Pulitzer Prize-winning correspondent for The New York Review of Books, The New York Times and other publications. He is also associate editor of the Journal of Asian Studies, a senior policy fellow at Merics, a Berlin foundation specializing in China, and teaches courses on Chinese society and religion.
Date and Time
Mar 21, 2018 at 5:00 pm
Location
School of Global Policy and Strategy Robinson Auditorium
Event Registration
Registration for this event is required by Mar 21, 2018. Visit the registration page for details.

Event Fee
Free to attend
Contact
Sam Tsoi • stsoi@ucsd.edu • 858-246-1950
Audience
Faculty, Staff, Students, The General Public
Event Host
GPS 21st Century China Center
Event Category