Jan at
thesisWORKS: MIKO, a space between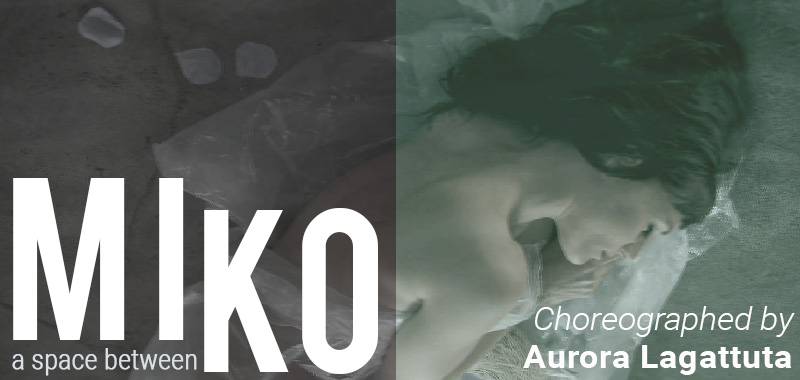 Miko: a space between features 12 women: 9 dancers and 3 musicians, who fearlessly move to understand, to mend and to uplift the interwoven relationships within themselves, each other and the space. Miko: a space between is a dance made in response to the current climatic crisis and increased acts of hatred, xenophobia, racism and sexism and humbly asks how can dance help? Miko: a space between weighs how small gestures of kindness can have endurance over our whole lives.Miko: a space between is a danced ecology that's investigates if dancing with places and others can create a felt experience of reciprocity between oneself, others and environments. Miko: a space between is a dance performance that nurtures intimate and expansive spaces for both audience and dancers to emerge with insights into the roles one plays within the planetary continuum. Miko: a space between has urgent concerns for our shared habitats. Miko: a space between places hope in generosity and responsibility. Miko: a space between is shoreline, lawns and tall corridors. Miko: a space between is women. Is webs. Is waves. Is clouds. Is hands, connectors, made, unmade, becoming, and meeting you.
Miko: a space between was awarded and is grateful for the support of a Creating Conversations Interdisciplinary Grant from Arts and Humanities at University of California at San Diego. This grant includes oceanographers Noél Gutiérrez-Brizuela and Lauren Kim, musician Kathryn Schulmeister and choreographer, Aurora Lagattuta. As part of this project, this performance aims to create repeatable scores and performance materials for groups to engage with along shorelines in order to sharpen one's awareness and sensations with the sounds, sights, mechanics, and issues of the local environment in which they live. The team's greatest hope is to create experiential and humanistic approaches to oceanic data that reveal a changed perception of shorelines as an embodied and ecological necessity.
Date and Time
Jan 23, 2019 at 4:30 pm
See more date(s) and/or time(s) below.
Location
Scripps Institute of Oceanography
Event Registration
Registration for this event is required by Jan 25, 2019. Visit the registration page for details.

Event Fee
General Admission: $20 / Senior/Affiliate: $15 / Student: $10
Contact
Mark Maltby • tdpromo@ucsd.edu • 858-534-3791
Audience
Faculty, Staff, Students, The General Public
Event Host
UC San Diego Theatre & Dance
Event Category
Concerts, Performances and Exhibitions
All Event Dates and Times