Nov 7, 2019 at 2:00 pm
Toastmasters Open House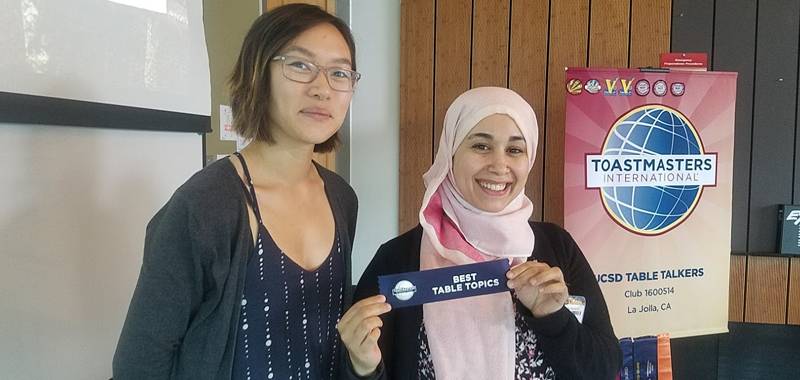 Your voice starts to shake, your hands get sweaty, your mind goes blank. It's a familiar feeling. Fear of public speaking is among the top terrors for many people. But it doesn't have to be!
Tackle your fear of speaking with UC San Diego Table Talkers Toastmasters, a group of staff and students who meet weekly to practice speaking and leadership skills in a fun learning environment. Join us for a free open house from 2-3 p.m. on Thursday, Nov. 7 at the Career Services Center Horizon Room.
What to expect: There is no pressure to participate. We invite you to join us to learn more about how the Toastmasters program is structured. We will offer some sweet treats and plenty of time for you to chat with current members about why they joined and how they have progressed to becoming more confident speakers.
What is Toastmasters? An international program, Toastmasters has chapters of people all over the world who gather to develop techniques to be effective communicators, skills that make you stand out during interviews, presentations, networking—nearly every social situation! Members work at their own pace, on their own goals. The club serves as a forum for practice and to gain feedback in a positive atmosphere.
We look forward to seeing you at our open house on Nov. 7!
Date and Time
Nov 7, 2019 at 2:00 pm
Location
Horizon Room, Career Services Center
Event Registration
Registration is not required for this event.

Event Fee
Free
Contact
Angie Lu • a3lu@ucsd.edu • (858) 822-3136
Audience
Faculty, Staff, Students, The General Public
Event Category