Jul 17, 2019 at 12:00 pm
Training One-on-One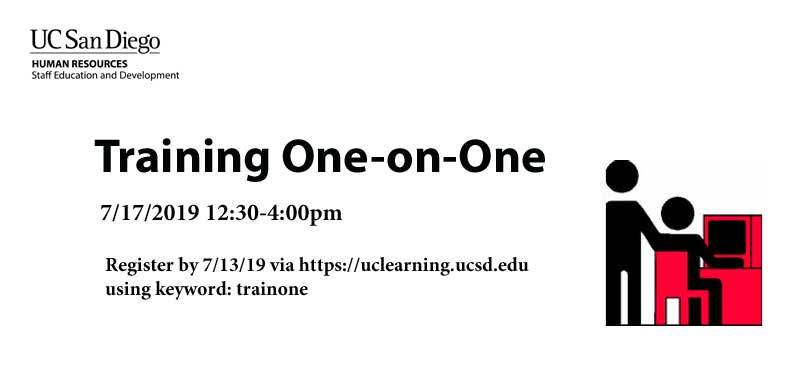 Training One-on-One
Wednesday, July 17, 2019
12:30 - 4:00 p.m.
Training Center North (TCN; Plaza Level, Torrey Pines Center-North (TPC-N))
Instructor: Kim Greene
Fee: $15 (registration/cancelation deadline 7/13/2019)
Keyword: trainone
Intended for: those who train, cross-train, or coach staff, colleagues, student employees, students or other university constituents
You will learn how to do effective one-on-one teaching and coaching, regardless of the relationship between, or status in the organization of, you and your learner.
Topics include:
• Understanding your role as a trainer or coach
• Establishing trust and mutual respect
• Giving clear instructions
• Providing effective and appropriate feedback
As a result of this training you should experience greater confidence in your role as a trainer of others in the workplace.
Date and Time
Jul 17, 2019 at 12:00 pm
Location
Training Center North, Torrey Pines Center - North
Event Registration
Registration for this event is required by Jul 13, 2019. Visit the registration page for details.

Event Fee
$15.00
Contact
Staff Education and Development • staffeducation@ucsd.edu • 858-534-4890
Audience
Staff
Event Host
Staff Education and Development
Event Category