Jul 28, 2017–Aug 8, 2017 at 5:00 pm
UC Learning Center: Unavailable from Fri. July 28, 2017 (5 PM) until Tues. August 8, 2017 (8 AM)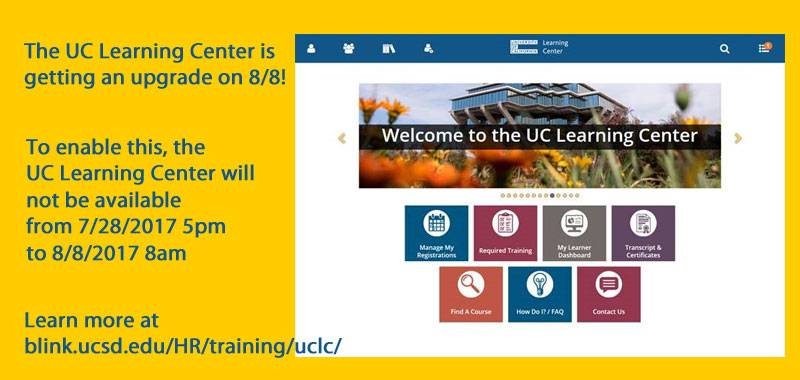 To prepare for the transition to the upgraded site, the UC Learning Center will be unavailable from Friday, July 28, 2017 at 5:00 pm until Tuesday, August 8, 2017 at 8:00 am. Please note the following considerations:
If you have any

required compliance activities that are due during this

time period

, you are encouraged to

complete them

before 5:00 pm on July 28

.

You will not be able to register for or cancel any activities in the UCLC

during the blackout period.

You will not receive any system-generated notifications from the UCLC

during the blackout period, including reminders about upcoming classes for which you are registered.
Help Resources
If you have any questions about the UC Learning Center upgrade and/or blackout period, please visit blink.ucsd.edu/HR/training/uclc/upgrade.html, or contact Staff Education and Development at staffeducation@ucsd.edu or (858)534-4890.
Date and Time
Jul 28, 2017–Aug 8, 2017
5:00 pm–8:00 am
Location
UC Learning Center
Event Registration
Registration is not required for this event.

Contact
Staff Education and Development • staffeducation@ucsd.edu • 858-534-4890
Audience
Staff
Event Host
Staff Education and Development
Event Category