Aug 8, 2017
UC Learning Center Upgrade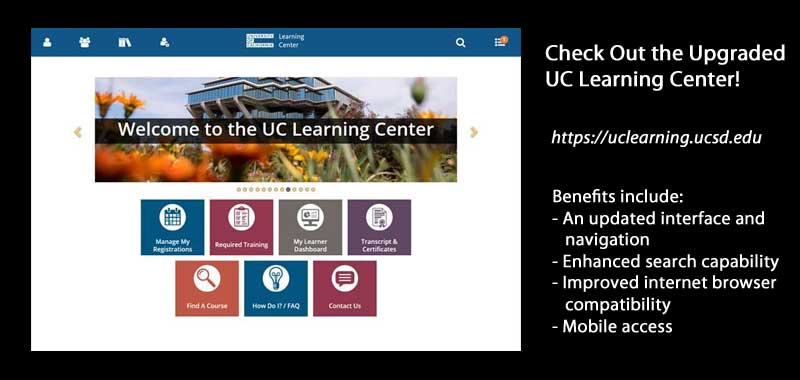 UC Learning Center Upgrade
The UC Learning Center (UCLC) is getting an upgrade, and starting August 8, 2017 you will see changes when you log in to the UC Learning Center. The upgrade features a number of enhancements to our current site. Highlights include:
An updated interface and navigation
Enhanced search capability
Improved internet browser compatibility
Mobile access
Help Resources
If you have any questions about the UC Learning Center upgrade, please visit blink.ucsd.edu/HR/training/uclc/upgrade.html, or contact Staff Education and Development at staffeducation@ucsd.edu or (858)534-4890.
Date and Time
Aug 8, 2017
Location
UC Learning Center
Event Registration
Registration is not required for this event.

Contact
Staff Education and Development • staffeducation@ucsd.edu • 858-534-4890
Audience
Staff
Event Host
Staff Education and Development
Event Category